Falluja: Embattled city of mosques and minarets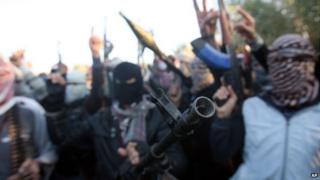 Falluja is a city located within the so-called Sunni Triangle, a stronghold of Iraq's insurgency.
It lies along the Euphrates river, about 42 miles (67 km) to the west of Baghdad. It is one of the main cities in Anbar - the country's largest and most restive province that shares borders with Saudi Arabia, Jordan and Syria.
Falluja is highly symbolic to Sunni Arabs, who call it the "Jerusalem" of Iraq or "city of mosques and minarets", says BBC Arabic correspondent Ahmed Maher.
Under the patronage of Saddam Hussein, and on the back of oil wealth, it grew from a marginal town under the Ottoman empire to an influential base for the Baathist regime.
Following the 2003 US-led invasion and the toppling of Saddam Hussein, Falluja was plunged into anarchy.
Amidst the violence and looting, al-Qaeda was able to establish itself in Falluja, where several grisly beheadings and killings of foreigners took place.
In the months that followed, al-Qaeda came close to establishing a mini-state in Anbar province, where there was deep-seated anti-American sentiment.
In April 2004, the US Marines launched operation Vigilant Resolve in an attempt to wrest control. However, the US forces failed to make significant gains and on 1 May all troops withdrew from the city.
In November 2004, coalition forces undertook a second campaign codenamed Phantom Fury (later renamed New Dawn by Iraq's then-prime minister Ayad Allawi).
It took some of the bloodiest and most intense fighting to retake Falluja, leaving thousands dead and much of the city in ruins.
In the years that followed, doctors in Falluja reported high levels of birth defects, with some blaming highly sophisticated weapons used by the US.
Tribal 'Awakening'
The insurgents fled the city but coalition and Iraqi forces had to conduct another operation in June 2007.
The US and UK orchestrated a "surge" of thousands of extra troops into Anbar province.
It was preceded by a discreet campaign, together with Iraqi partners and backed by cash, to convince the Sunni tribal chiefs that their future lay with the government rather than with the insurgents.
Local residents, who had initially welcomed al-Qaeda's resistance to the US occupation, were resentful of the draconian rules imposed on them by extremists.
The result was the "Sahwa" - the Sunni tribal awakening that drove out al-Qaeda and established a modicum of security in Falluja and the wider province.
'Domination and oppression'
Falluja has again been infiltrated by al-Qaeda, this time by an affiliate group known as the Islamic State of Iraq and the Levant (ISIS).
In some of the heaviest clashes seen in Iraq in recent years, the government lost control of the city to ISIS and allied Sunni Arab tribesmen in early January.
The violence was triggered by the government's decision on 30 December to break up by force a Sunni Arab protest camp in Ramadi (another major city in Anbar province).
The arrest the preceding day of prominent Sunni minister Ahmed al-Alwani provoked Falluja residents and al-Qaeda militants to join forces against the Iraqi security forces.
Many Sunnis in Iraq claim they are being marginalised by Prime Minister Nouri Maliki's Shia-led government.
Islamist militants have been able to benefit from those deep-seated grievances, and Mr Maliki's drive to restore control is being seen by many Sunnis as an attempt at domination and oppression, analysts say.
There is increasing concern over the prospect of a large, ungoverned space where al-Qaeda is able to train, recruit and plan.