Israel ex-PM Ariel Sharon condition 'worsens'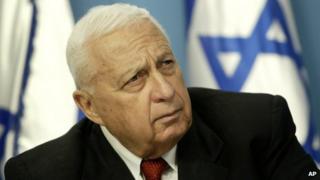 The health of former Israeli Prime Minister Ariel Sharon, who has been in a coma since 2006, has deteriorated further, hospital officials say.
His condition has worsened in the last hours and his family is at his side, according to a statement from Sheba hospital near Tel Aviv.
The 85-year-old, who became PM in 2001, is suffering from a malfunction of several organs including the kidneys.
He has been in a persistent vegetative state since a stroke in 2006.
Critical
Doctors said last week that his health was showing signs of "a slow and gradual deterioration" and his life was in danger.
He is still described as in a critical condition.
The former leader is known as the architect of the withdrawal of Israeli troops and Jewish settlers from the Gaza Strip in 2005.
Aside from a long political career, Mr Sharon is seen as a great military leader by Israelis, having fought in four Israeli wars. However, he is reviled by Palestinians.
He was held partially responsible for the massacre of hundreds of Palestinians in refugee camps in Beirut by Lebanese Christian militiamen in 1983.
He was nevertheless elected prime minister 18 years later, pledging to achieve "security and true peace".
As prime minister, Mr Sharon was a keen promoter of construction in Jewish settlements in the occupied Palestinian territories. He also initiated the construction of the controversial West Bank barrier following a wave of deadly attacks by Palestinian militants who were able to get into Israel.
But in 2005, despite fierce opposition in Israel, he ordered the unilateral withdrawal of Israeli troops and settlers from the Gaza Strip.
In that year, he left his Likud Party to establish the centrist Kadima Party and appeared headed for re-election when he suffered the major stroke in 2006.