Syria conflict: Groups pledge $400m in humanitarian aid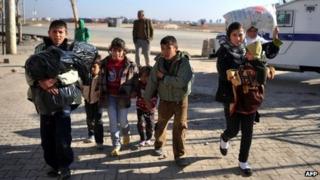 Charitable non-governmental organisations meeting in Kuwait have pledged $400m (£243m) to alleviate the plight of millions of Syrians affected by the country's bitter civil war.
The NGOs said the funds would help Syrians both in the country and who had fled across borders.
The move comes a day before a major donor conference in Kuwait as part of a UN appeal to raise some $6bn for Syria.
Separately, the UN voiced concerns over food shortages in Syrian war zones.
The World Food Programme said there were reports of malnutrition in areas either besieged by government forces or cut off by continuing fighting between rival rebel factions.
It also said children were being caught up in the fighting, urging greater access for aid agencies.
Syria's refugee crisis has grown steadily since the start of 2012 and accelerated quickly last year.
The UN says about 6.5 million are now displaced inside Syria, with more than 2.3 million registered refugees living across the region in countries like Lebanon, Turkey, Jordan and Iraq.
About 20% of these refugees live in camps - the rest have found shelter in other communities.
Warning to opposition
Kuwait's International Islamic Charitable Organisation said that Kuwaiti charities had pledged $142m of the $400m, while other NGOs at the meeting had offered the remainder.
The pledges come ahead of next week's Syria peace talks in Geneva.
It is hoped the meeting in Switzerland - known as Geneva II - will provide a breakthrough in ending the conflict.
On Monday, Britain and the US warned they would rethink support for Syria's main opposition group if it failed to join the gathering, a Syrian source has said.
The official from the Syrian National Coalition told reporters that London and Washington were adamant the group must go to Geneva.
The coalition is expected to hold a vote on Friday on whether or not to attend.
Syria's opposition remains deeply divided, and there has recently been heavy fighting between rival factions.
The UN says more than 100,000 people have died since the Syrian uprising against President Bashar al-Assad began in March 2011.