Sinai Province: Egypt's most dangerous group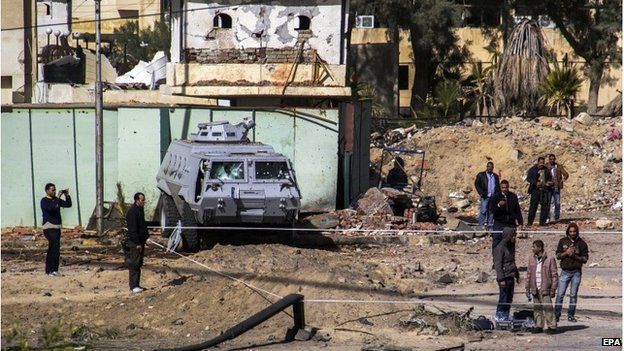 The militant group Sinai Province is currently the most active insurgent group in Egypt. It has been linked to a number of deadly attacks, mostly in North Sinai, but also in the capital, Cairo, and other provinces.
The Islamist group has been active on the Sinai peninsula since 2011 and was initially known as Ansar Beit al-Maqdis (Supporters of Jerusalem).
It changed its name after it pledged allegiance to the Islamic State (IS) group in November 2014.
At the start of July this year, Sinai Province staged a series of attacks against the army, whose scale and complexity observers said indicated the possibility of closer coordination with the IS leadership in Syria.
IS strategies
Brian Fishman, a researcher at the New America Foundation in Washington, was quoted by the New York Times as saying that the coordination illustrated by the assailants - suicide bombers backed up by direct and indirect fire, well-aimed mortars used in combination with small arms, and simultaneous assaults in many places - was the strongest evidence yet of strategies also used by Islamic State jihadists in Syria and Iraq.
Sinai Province is now thought to be aiming to take control of the Sinai Peninsula in order to turn it into an Islamist state run by the Islamic State group.
The number of active Sinai Province members is believed to be between 1,000 and 1,500.
State of emergency
It appears to have been operating mainly, but not exclusively, in North Sinai province, which has been under a state of emergency since October 2014 when 33 security personnel were killed in an attack claimed by the group.
Egyptian Prime Minister Ibrahim Mehleb has described the army's confrontation with the group there as a "state of war".
North Sinai is thinly populated and generally underdeveloped. Many of the local population are said to feel marginalised and therefore more inclined to be supportive of the militants.
The border with Israel and the Gaza Strip has been a scene of tension over the past few years. The Egyptian authorities are trying to maintain a buffer zone, demolishing houses and digging a trench to prevent smuggling between Egypt and Gaza - which they say is a source of weapons for the militants.
The group started by attacking Israeli with rockets, but after the ouster of Islamist President Muhammad Morsi in 2013 it has mostly focused on Egypt's security services and has killed dozens of soldiers.
It has been involved in suicide bombings, drive-by shootings, assassinations and beheadings.
Sinai Province claimed responsibility for an assassination attempt on Interior Minister Muhammad Ibrahim in September 2013 near his home in Cairo.
Months later it said it was behind a bomb attack on a tourist bus in the Sinai town of Taba on the border with Israel which left three South Koreans and the Egyptian driver dead.
In a piece of propaganda designed to discredit the security forces, in August 2014, the group broadcast a video showing the beheading of four military servicemen they accused of spying for Israel's security service, Mossad.
The group was seen to widen it tactics in July 2015, when it said it had attacked an Egyptian naval vessel in the Mediterranean with a missile fired from the shore - a worrying development for shipping in the region.
The militants said the attack destroyed the vessel and killed its crew, but Egyptian officials said there were no casualties, and challenged the group's account.
Citizens warned
There has in recent months been a dramatic advance in the group's media and production capabilities. In several videos, Sinai Province has urged citizens to avoid co-operating with the authorities, especially by joining the army and police.
While security forces have been Sinai Province's main targets, civilians have also been singled out.
In November 2014, the group abducted and killed foreigner for the first time - US oil worker William Henderson, though it is not clear where exactly he was taken from.
BBC Monitoring reports and analyses news from TV, radio, web and print media around the world. You can follow BBC Monitoring on Twitter and Facebook.