Egyptian media urge Sisi to run for president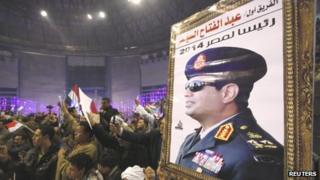 Field Marshal Abdul Fattah al-Sisi is riding high on a wave of support, it appears from commentaries in Egypt's media. Many plead with him to run for president, praising him as a hero and the type of leader Egypt needs.
But a few sceptical voices from pro-Muslim Brotherhood groups, which are no longer represented in the press, are emerging on social media.
'Siding with the poor'
In state-run Rose al-Yusuf magazine, Kamal Amir paints Field Marshal Sisi as a self-sacrificing figure who puts the welfare of the country in front of his career. "Sisi has risked his life and family and sided with the poor and the people. He did not think for one moment about what could have happened to him or his future," he says.
Al-Misri al-Yawm also praises what it sees as Field Marshal Sisi's modesty, saying he had greatness thrust upon him by the public. "He did not impose himself as a candidate but the events surrounding him imposed it. I would say that if he had the choice, he would not run in the elections," Sulayman Judah writes in the daily.
One-candidate election?
Because of his popularity, Egypt may face the unexpected problem of appearing to have only a single candidate in the race, Mr Judah says. "The moment Field Marshal Abdul Fattah Sisi nominates himself in presidential elections, we will find ourselves with just one candidate because all other candidates… have announced one after another that they will not run if Sisi runs."
In state-run Al-Ahram al-Misa'i, Ali Mahmud agrees that the upcoming campaign should encourage other candidates in order to be seen as legitimate. Field Marshal Sisi "will not be happy to run by himself in a presidential election, bearing in mind that he is entering this battle with massive popular support. I do not agree with those who attack other candidates as if they wanted the election to be merely a cosmetic process." He sees the "desire for a statesman" as the reason for Field Marshal Sisi's rise.
The editor-in-chief of private daily Al-Watan, Majdi al-Jallad, addresses a plea directly to Field Marshal Sisi to run, saying "you are one of us and we are with you and for you".
But he also warns that the expectations of Egyptians are great: "The support of the people is a brimming cup of water which will be certainly emptied if the president does not keep it filled with achievements, vision, production and work. We want you, Sisi, to be a president and a leader and this will not be achieved except through a sharp and creative vision to rebuild Egypt. We do not need quick solutions."
'Illusory halo'
An unusually critical voice, from liberal politician Amr Hamzawi writing in the Al-Shuruq al-Jadid newspaper, says that the revolution was supposed to get rid of tyranny and autocracy rather than re-installing them on its third anniversary. He is sceptical of what he calls the "illusory halo of sacredness" and making a "false link between the interests of the nation and a 'hero'".
But most of the other cautious or dissenting voices appear in social media rather than the press. Actor Khaled Abol Naga tweets: "I am reminding Sisi of his promise: 'I will not contest the presidency, I will not allow Egyptian history to say that Egypt's army moved [to oust President Mohamed Morsi] for the sake of personal interests'."
Human rights activist Hossam Bahgat simply tells Field Marshal Sisi on Facebook to "enjoy the burden".
But the Facebook page of the pro-Muslim Brotherhood National Alliance for Supporting Legitimacy declares its outright contempt for him, calling him a murderer responsible for the deaths that occurred when the former president was deposed. It says of Field Marshal Sisi: "The people want to execute this killer rather than appointing him as president."
BBC Monitoring reports and analyses news from TV, radio, web and print media around the world. For more reports from BBC Monitoring, click here. You can follow BBC Monitoring on Twitter and Facebook.