Egypt court orders retrial over football riot deaths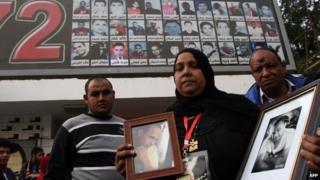 Egypt's Court of Cassation has ordered a retrial of the 21 people sentenced to death in connection with an infamous football riot in Port Said in 2012.
Seventy-four people, most of them fans of the Cairo club Al Ahly, were killed when clashes broke out during a match against the local club, Al Masry.
The defendants had their sentences upheld by a lower court last March.
But the verdict stoked rage in both Port Said and Cairo, where residents claimed the trial had been politicised.
Analysts say the political climate has shifted considerably in Egypt since then, with the military ousting President Mohammed Morsi in July.
'Thugs'
On Thursday, the Court of Cassation in Cairo accepted the appeal by the fans found guilty of responsibility for the deaths of those who died on 1 February 2012.
Many of the victims were crushed when panicked fans tried to escape from the Port Said Stadium after a post-match pitch invasion by supporters of Al Masry to celebrate the team's victory. Others who died reportedly fell or were thrown from terraces.
Al Ahly fans accused the interior ministry and police force of deliberately causing the disaster in revenge for their role in toppling former President Hosni Mubarak in 2011.
They alleged that officers had failed to protect them and done nothing to stop the violence as it escalated. Some even claimed paid thugs had been sent into the crowd to stir up trouble.
Al Masry fans also insisted that the riot had been orchestrated by the police and Mubarak supporters, and that they were not responsible.
In January 2013, a criminal court found the 21 Al Masry fans guilty of involvement and sentenced them to death. Another 52 defendants in the case had their verdicts postponed after state prosecutors submitted fresh evidence that had to be examined.
Al Ahly fans cheered when the death sentences was announced, but later complained that no police officers had been convicted.
In Port Said residents were furious that people from their city had been held responsible. They denounced the sentences as unjust and politically biased. More than 30 people were killed as people took to the streets, burning tyres and storming police stations.
Two months later, the appeals court confirmed the sentences handed out to the 21 men, sentenced five to life in prison and gave 19 others shorter terms. Among them were two senior security officials, who were both sentenced to 15 years in jail for negligence. However, seven police officers and two Al Masry officials were among the 28 people acquitted.
The verdicts only served to increase anger in Port Said, where thousands of residents blockaded ferries crossing the Suez Canal, and in Cairo, where Al Ahly fans burned the football federation's headquarters and the Police Officers' Club, and clashed with security forces.