Yemen police die in Mukalla suicide blast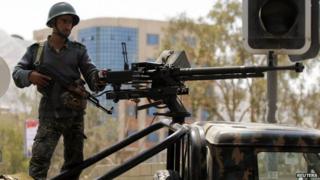 At least ten Yemeni police and a civilian have been killed in a suicide bomb attack in the southern city of Mukalla, authorities say.
Police say the bomber drove up to a police station and started an argument to draw more officers to the scene before detonating his device.
Earlier, four people died in a shooting in the capital, Sanaa.
No group has claimed responsibility for the attacks but they coincide with a military operation against al-Qaeda.
Security officials say the explosion at the police station caused part of the building to collapse while other officers were having lunch inside.
The civilian cook at the station was also killed, security officials told the AP news agency.
A separate dawn attack on a presidential guard checkpoint in the capital Sanaa led to the deaths of three gunmen and a civilian, the interior ministry said.
Military offensive
The latest violence comes only two days after four soldiers were killed in a gun battle with militants in the capital.
Last year, the army managed to drive al-Qaeda out of towns the group had taken over in southern Yemen amid the chaos triggered by a mass uprising against the veteran President Ali Abdullah Saleh, which began in 2011.
But this year, al-Qaeda appears to have regrouped, carrying out a wave of attacks on security targets, correspondents say.
Yemen's army is currently engaged in a major offensive in the provinces of Shabwa, Abyan and Bayda.
The Saba news agency reported on Sunday that hundreds of al-Qaeda fighters had been killed and injured in the operation so far, which began on 29 April.
Yemen has been on high alert as the operation continues, and the US closed its embassy in Sanaa on Thursday.
The interior ministry said al-Qaeda may be pushed to commit "desperate acts" as the Yemeni army pushes further into its strongholds.