Iraq: Can US military advisers help ease crisis?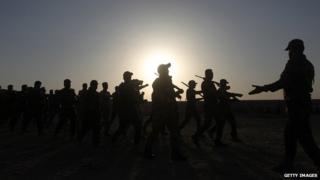 President Barack Obama's decision to send up to 300 military advisers to Iraq will satisfy few in the United States.
For some it is a step too far - raising the spectre of Washington being drawn into the bloody quagmire of Iraqi sectarianism.
For others it's a step that does not go far enough; more hawkish voices want the immediate use of air power and in some cases a re-think of the president's whole approach to the linked crises in Syria and Iraq.
For now though, Mr Obama may be holding the middle ground; the despatch of the advisers being a prudent step that does not preclude further action if necessary.
Indeed, we already know that US drones and FA-18 carrier-borne jets have been flying over Iraq starting to build up an intelligence picture.
Having US special forces on the ground working intimately with Iraqi commanders should expand that picture significantly.
Their presence also paves the way for a role in helping to identify ground targets should US air operations become necessary.
So what exactly will the US advisers do?
Contributing to the intelligence picture has already been mentioned.
They will also be able to make a close-up assessment of the state of Iraqi units and commanders. Who is effective? Who can be trusted to take on offensive operations with some hope of success?
Some will go to the Iraqi military headquarters in Baghdad. Some will go to individual brigade headquarters. And two joint operations centres are to be established to collate and share information; one in Baghdad and the other likely to be in Kurdish area of northern Iraq.
Isolate the radicals
How things develop from here depends upon two crucial factors.
Firstly will the Isis (Islamic State of Iraq and the Levant) advance continue towards Baghdad?
Will Iraqi government forces continue to crumble or might Isis simply run out of steam, at least for now?
A rapid deterioration of the security situation could prompt US air action, despite President Obama's obvious reluctance.
The second factor - the sectarianism of Prime Minister Nouri Maliki - in large part explains Mr Obama's reluctance to act decisively.
The Americans are pushing strongly for a more inclusive political style; a government more willing to reach out to Sunnis, a step that offers at least the possibility of beginning to isolate the radicals of Isis.
Without some fundamental shift in Baghdad - there are strong indications that Washington would simply like Mr Maliki to step aside - the US fears that any air intervention would simply be seen as an attempt to bolster an unsavoury Shia-dominated government in what increasingly has all the hallmarks of a sectarian civil war.
Worst over?
Drawing up a clear military balance is perhaps futile.
Suffice to say the Iraqi military on paper should have been able to deal with the Isis advance.
But the army has been hollowed out; its logistical support is inefficient; top posts have gone to Maliki placemen and so on. Morale is poor.
By contrast, Isis has far fewer fighters at its disposal, though it has been able to mobilise around the discontent of other Sunni groups.
It has also - so far - been operating largely in Sunni-dominated areas.
Some analysts believe that the moment of worst danger to Baghdad is over. But it is clear that there are two crises here.
One is the immediate threat that has prompted US action.
But there is likely to be an enduring problem as well, especially if the Baghdad government cannot come up with some kind of new ruling formula.
A semi-state has been established by Isis in eastern Syria and western Iraq that is unlikely to be dislodged any time soon.
This is a direct outcome of the civil war in Syria. For years experts have been warning that this crisis would spill over into other countries.
The Isis phenomenon is very much part of that process.
So beyond the debate over imminent US military action or otherwise, this crisis is likely to prompt renewed thinking about how the international community responds to the Syrian tragedy.