UN begins huge aid drop in Iraq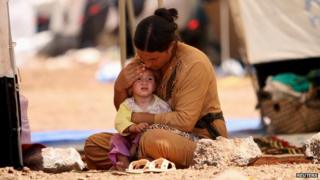 The UN has begun what is says is its largest aid operation for a decade as it attempts to reach more than 500,000 people in northern Iraq.
A jet carrying 100 tonnes of tents and cooking equipment arrived in Irbil, with more flights expected.
There are now more than 1.2 million internally displaced people across Iraq, the UN says.
The aid operation comes amid continuing US air strikes targeting militants from the Islamic State (IS) group.
IS forces have captured large parts of northern Iraq in recent weeks.
The US said it had carried out nearly a dozen strikes since Tuesday. It has now launched over 90 strikes on IS targets.
The strikes have continued despite the beheading of American journalist James Foley, which an IS militant said was in revenge for US action in Iraq.
The US has asked for additional security in Iraq, which could include up to 300 troops, a senior official has said.
'Humanitarian crisis'
The United Nations refugee agency, UNHCR, says it hopes to bring in nearly 2,500 tons of supplies to Iraqi Kurdistan in the next ten days.
More aid is due to arrive by truck from Turkey, Jordan and Iran.
An estimated 1.2 million Iraqis have been displaced so far in 2014, according to the UN agency - more than 500,000 from fighting in the Anbar region, and another 600,000 displaced from conflicts around Mosul and more recently Sinjar.
---
Formed out of al-Qaeda in Iraq (AQI) in 2013, IS captured Raqqa in eastern Syria
By early 2014 it controlled Falluja in western Iraq
It has since captured broad swathes of Iraq, seizing Mosul in the north in June and the Mosul dam in August
The violence has displaced an estimated 1.2 million people in Iraq alone
Pursuing an extreme form of Sunni Islam, IS has persecuted non-Muslims such as Yazidis and Christians, as well as Shia Muslims, whom it regards as heretics
In July alone, IS expanded dramatically, recruiting some 6,300 new fighters largely in Raqqa, an activist monitoring group said
---
Foreign minister returns
Meanwhile, Iraq's Foreign Minister Hoshyar Zebari says he has rejoined the government after withdrawing last month.
Mr Zebari, a Kurd, withdrew support from outgoing Prime Minister Nouri al-Maliki's cabinet along with Kurdish MPs after Mr Maliki accused the Kurdish government of harbouring "terrorists".
But he rejoined the government in Baghdad after Mr Maliki called for all sides to come together.
Mr Maliki is due to be replaced shortly by deputy speaker Haider al-Abadi.
Islamic State activities as of 14 August