Yemeni police clash with Shia Houthis in Sanaa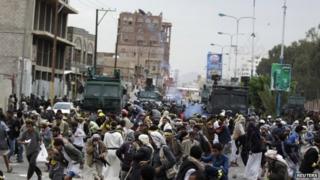 Yemeni police have deployed water cannon and tear gas to shift thousands of Shia protesters, who had built camps on the road to Sanaa airport.
The Houthis, who have had protest camps set up around Sanaa for weeks, want ministers to restore fuel subsidies.
Meanwhile, government warplanes bombed armed Houthi rebels north-east of the capital, killing at least 13 people.
Houthis have staged periodic uprisings since 2004 to win autonomy for their northern heartland of Saada province.
Yemen's long-time president Ali Abdullah Saleh was forced from power in February 2012 after an 11-month uprising.
The battle to oust him sparked a chaotic scramble for power among tribal groups and rival militias.
Houthis consolidated control over Saada in 2011 and since July this year have inflicted defeats on other tribal and militia groups backed by Sunni political leaders.