Yemen: 'Four dead' as police fire on Houthi protesters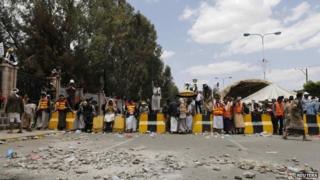 Police in Yemen have shot at anti-government Shia protesters in the capital, Sanaa, killing at least four people, witnesses say.
In recent days, thousands of Houthi demonstrators have intensified weeks of protests on the outskirts of the city.
Last week the president dismissed the government and promised to review fuel subsidy cuts.
The head of special forces was sacked on Monday after a failed attempt to disperse the protest.
The Houthis have been holding sit-ins at ministries and on the main airport road in their push to overthrow the government.
Their leader, Abdel Malik al-Houthi, warned that his supporters would remain in their positions on the outskirts of the capital until their demands were met.
They have staged periodic uprisings since 2004 in an effort to win greater autonomy for their northern heartland of Saada province.
Air strikes by government forces are continuing against Houthi positions in the north.
Rebel leaders told the Reuters news agency that two of their members were killed and dozens were wounded in the Sanaa protest.
But correspondents say these figures could not immediately be confirmed.
Experts say that Yemen has reached its most dangerous period since mass protests against President Ali Abdullah Saleh in 2011.
"The Houthi group may not and cannot continue its escalation and its disturbance of the public tranquillity and the undermining of security and stability in the capital," his successor, President Abed Rabbo Mansour Hadi, said.
The Houthis accuse his government of corruption and continuing President Saleh's unjust policies.
But critics of the Shia group say it is attempting to grab power and create a semi-independent state.