Yemen clashes cast doubt on 'truce' claim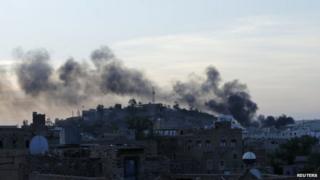 Fighting has continued in the Yemeni capital Sanaa, despite an announcement that the government and Shia Houthi rebels were to sign a truce.
Residents spoke of heavy shelling and gunfire overnight in an area close to the al-Iman University.
On Saturday, UN envoy Jamal Benomar said the ceasefire deal was agreed.
The violence between the Houthis and forces loyal to the main Sunni party, Islah, has triggered Yemen's worst crisis since 2011.
The Shia group's advance on the capital has left scores dead this week and damaged many key buildings.
State TV 'seized'
Much of the fighting for the fourth consecutive day was in the northern part of the capital, where the Shia fighters tried to seize control of the university from fighters loyal to Islah.
One rebel leader told Reuters news agency that his forces had also continued the shelling of an army camp nearby.
The Houthis earlier claimed they had taken over the state television building in the city.
The fighting comes despite an overnight curfew imposed in parts of Sanaa by the government.
'Coup attempt'
In a statement on Saturday, Mr Benomar said the agreement was struck "after intense consultations with all the political parties", adding that it should "advance the path of peaceful change".
The UN envoy said preparations were being made for signing the deal.
The Houthis belong to the minority Zaidi Shia community and are based in the mountainous northern province of Saada. They have staged periodic uprisings since 2004 to win greater autonomy for Saada.
For several weeks, Houthi fighters have been advancing upon the capital, skirmishing with rivals and staging protests demanding political and economic reforms.
President Abdrabbuh Mansour Hadi has described the rebel offensive as a "coup attempt".
Yemen has remained unstable since an outbreak of anti-government protests in 2011, which forced the then-President Ali Abdallah Saleh from office.