Turkish media reaction to border crisis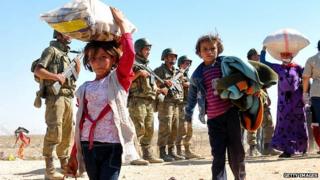 Turkey's front pages highlight both the huge numbers of Syrian refugees fleeing the border town of Kobane and clashes between Kurdish protesters and Turkish security forces at the border.
Centre-right English-language daily Hurriyet describes Kobane as "The city of death" while centrist Milliyet says the UNHCR is preparing for the "hundreds of thousands" of Syrian refugees at the border.
Meanwhile English-language paper Zaman's front page says "Six hundred thousand are waiting for evacuation" from Kobane. If Islamic State (IS) takes control of Kobane, it says, Turkey will be faced with the biggest migration problem in its history.
Border tension
Some papers chose to focus on Sunday's border clashes between Turkish security forces and Kurdish protesters in the south-eastern province of Sanlifurfa's Suruc district. However most pro-government dailies steered clear of the topic.
Leftist daily Evrensel is critical of the military's use of tear gas against the protesters. Its headline reads: "Bullet in Kobane and gas in Suruc".
Pro-Kurdish daily Ozgur Gundem took the same anti-government line. "We will win against both the IS gang and the AKP", it says in reference to the governing Justice and Development Party.
Turkish-language tabloid Posta also runs the story on its front page with an image of Kurdish protesters throwing stones at gendarmes after they reportedly tried to prevent them getting into Syria alongside the headline: "The Rain of Stones." A headline in pro-Islamic daily Milat says protesters are "Playing with fire."
Meanwhile English-language daily Sabah reports on an Islamic State flag flying in a neighbouring Syrian town and visible from the Turkish side of the border "Isis hangs its flag on the border" while Milliyet, on the same subject, runs the headline "Critical update from the border. They are on our doorstep".
BBC Monitoring reports and analyses news from TV, radio, web and print media around the world. For more reports from BBC Monitoring, click here. You can follow BBC Monitoring on Twitter and Facebook