Israel downs Syrian fighter jet over Golan Heights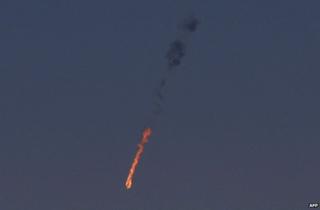 A Syrian fighter jet which apparently strayed into Israeli-controlled airspace over the occupied Golan Heights has been shot down by Israel.
The plane, identified by Israeli sources as a Russian-built Sukhoi, plunged to the ground in flames but the pilot reportedly managed to eject.
Defence Minister Moshe Yaalon said Israel would respond to threats whether or not "they stemmed from a mistake".
A Syrian activist group said the jet had been bombing an area inside Syria.
It is the first time since the 1980s that the Israeli military is known to have shot down a Syrian plane although Syria's civil war has threatened to spill over the border, and Israel has carried out air strikes inside Syria in response to cross-border attacks.
Brigadier General Ram Shmueli, former head of the Israeli air force's intelligence unit, said the likely cause of the incident was pilot error.
"We believe [the pilot's] mission was to attack enemy forces - not ours - in the Syrian Golan Heights," he was quoted as saying by AFP news agency.
Syria said the downing of the plane was an act of aggression, Reuters news agency reported.
The UK-based Syrian Observatory for Human Rights, which monitors the civil war, said the jet had been bombing areas outside Quneitra, a Syrian town near the Israeli-held side of the frontier.
The Sukhoi-24 had penetrated 800m (2,600 ft) into Israeli airspace, and tried to turn around after Israel launched a Patriot missile, an Israeli defence source told the Associated Press news agency.
Israel occupied the Syrian Golan Heights in the 1967 Middle East war. It unilaterally annexed the area in 1981, in a move not recognised internationally.