Yemen Houthi rebels capture Red Sea port of Hodeida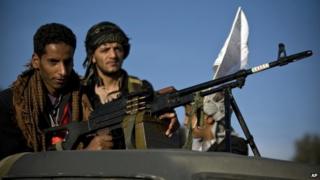 Yemeni Shia rebels are reported to have captured the strategically important city of Hodeida on the Red Sea coast.
Reports say the rebels, known as Houthis, met little opposition as they swept through the city, taking over its air and sea ports.
Hodeida is Yemen's second biggest port after Aden and a key source of supplies for the country's capital, Sanaa.
The Houthis' rapid advance comes a day after the appointment of a new prime minister, who is backed by the rebels.
Khalid Bahah, a former oil minister and Yemeni envoy to the UN, is viewed as a technocratic figure.
His appointment by President Abdrabbuh Mansour Hadi was welcomed by the Houthis, who brought down the previous government last month and hope Mr Bahah will help end political turmoil.
He is expected to form a government in the coming weeks.
Trade routes
The Houthis, who belong to the Zaidi sect of Shia Islam, have fought the government periodically over more than 10 years in an attempt to win greater autonomy for their strongholds in the northern Yemeni highlands and end what they say is discrimination and marginalisation.
Last month, their fighters entered Sanaa, seizing key government facilities and installations virtually unopposed.
Military sources had warned that the rebels may seek to extend their control west to the coast, giving them power over trade routes to Sanaa and a position on the straits leading to the Suez Canal.
Security officials said the Houthis had now deployed across vital installations in Hodeida, about 230km (140 miles) west of Sanaa.
Armed rebels have also taken up positions on main roads in the city, military sources said.
One security guard was reported to have been killed when rebels seized a courthouse.