Iran failing to answer nuclear questions, says IAEA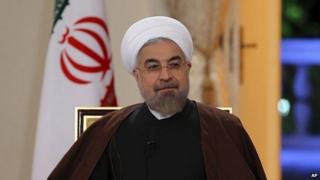 Iran is failing to answer questions about its nuclear programme just weeks before a deadline for a deal with world powers, the global nuclear agency says.
The IAEA says Iran is complying with an agreement to curb uranium enrichment.
But a confidential IAEA report seen by the BBC says it has made no progress in its investigation into possible military dimensions of the programme.
US Secretary of State John Kerry is due to meet his Iranian counterpart in Oman for further talks at the weekend.
The meeting with Iranian Foreign Minister Mohammad Javad Zarif and former EU foreign policy chief Catherine Ashton comes ahead of the 24 November deadline to strike a landmark nuclear deal.
The BBC's Bethany Bell in Vienna says the IAEA's latest report could complicate efforts by US, Britain, France, Germany, Russia and China to reach an agreement with Iran.
They now have less than three weeks to try and end a decade-long standoff about Tehran's controversial nuclear activities, our correspondent adds.
The US, EU and other powers suspect Iran is secretly seeking to develop nuclear weapons. Iran has strongly denied the charge, insisting its programme is purely for peaceful purposes.
Iran had promised to further co-operate with the IAEA following the election of President Hassan Rouhani last year in a bid to ease Western sanctions.
'No explanations'
The IAEA conducts regular inspections of Iran's nuclear facilities but it also wants the country's government to address allegations of suspected covert activity.
In May, Iran agreed to provide information on two out of around a dozen areas of suspicion by August, but the IAEA says it is yet to receive answers.
"Iran has not provided any explanations that enable the agency to clarify the outstanding practical measures," the report says.
Although the deal being sought by world powers is separate to the IAEA's investigation, a US official said the allegations "must be addressed" as part of any comprehensive agreement.
"Only when this happens will it be possible to have confidence that Iran's nuclear programme is and will remain exclusively peaceful," Laura Kennedy, the US envoy to the IAEA, said in September.
On Thursday, it emerged that US President Barack Obama had written a secret letter to Iran's supreme leader, Ayatollah Ali Khamenei.
Mr Obama allegedly used the letter, reported by the Wall Street Journal, to speak of a shared interest in fighting Islamic State militants in Iraq and Syria and also to urge Iran to agree to a nuclear deal with the West.
It is understood to be at least the fourth time Mr Obama has written to the Iranian leader since taking office in 2009.