Syria conflict: Amnesty says rich nations failing refugees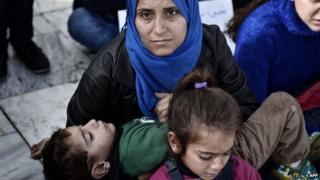 Rights group Amnesty International has criticised the world's richest nations for taking in a "pitiful" number of Syria's most vulnerable refugees.
It said only 1.7% of the 3.8m refugees taken in by Syria's regional neighbours had been offered sanctuary globally.
It singled out Arab Gulf states, China and Russia for failing to take in any refugees, which it said was "shameful".
Amnesty said the lack of global response was placing the burden on Syria's ill-equipped neighbours.
Most Syrian refugees have fled to Lebanon, Jordan, Turkey, Iraq and Egypt, and these countries are struggling to cope with the extra numbers.
Immigration 'scaremongering'
In a new report, the rights group described as shocking "the shortfall in the number of resettlement places for refugees offered by the international community".
"The complete absence of resettlement pledges from the Gulf is particularly shameful," it continues.
"Linguistic and religious ties should place the Gulf states at the forefront of those offering safe shelter to refugees fleeing persecution and war crimes in Syria."
In addition to China and Russia, Amnesty also berated European nations for taking in low numbers of refugees.
With the exception of Germany, it said, the European Union had pledged to resettle "a paltry 0.17% of refugees in the main host countries".
It added that the apathy from some of the world's richest countries had been exacerbated by scare-mongering over rising immigration across Europe.
Amnesty report: Who is doing what
Sweden has the highest number of asylum applications in Europe with 50,235 people and has pledged 1,200 resettlement places
Germany received 46,265 applications and has pledged 30,000 resettlement places
The rest of the EU received 53,605 applications and pledged 5,105 places
Six Gulf Cooperation Council nations offered no resettlement places
Russia, Chile, Japan, Singapore and South Korea are among the high-income countries not offering resettlement places
The US has an open-ended resettlement programme, the size of which is unclear
Amnesty says it is calling for the resettlement of at least 5% of Syria's refugees by the end of 2015, with another 5% resettled by 2016.
The report was released ahead of a major UN donors' conference on Syria on 9 December.
More than three million Syrians have fled since the conflict began nearly four years ago, in one of the largest refugee exoduses in recent history.
Some 6.5 million people have been internally displaced.
Where are Syria's refugees?
Lebanon: 1,143,493
Turkey: 1,097,740
Iraq: 228,484
Jordan: 618,615
Egypt: 137,504
Source: UNHCR as of 2 December