Egypt death sentences over Sinai ambush at Rafah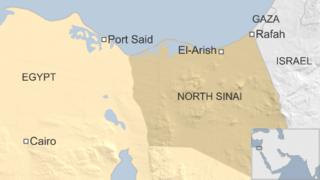 An Egyptian court has upheld death sentences given to seven men for an attack that killed 25 policemen.
The August 2013 attack on the police convoy in Sinai, close to the town of Rafah on the Gaza border, was one of the deadliest on security forces.
The group's leader Adel Habara is reported to have admitted the charges during questioning.
A month earlier the army had ousted President Mohammed Morsi after mass street protests against him.
The off-duty police officers were in two minibuses when they were ambushed in northern Sinai.
They were reportedly ordered to leave the buses before being shot in the back of the head.
"The defendants committed the listed crimes because of their belief in the ideology of terrorist organisation al-Qaeda," the judge said, confirming an earlier ruling which had been endorsed by Egypt's top religious authority, the Grand Mufti.
Three defendants were acquitted. The court's decisions can be sent for appeal.
This is Adel Habara's second death sentence. He has also been convicted of carrying out bombings in the tourist resorts of Taba and Dahab in 2004 and 2006.
Attacks by Islamist militants on the Egyptian security forces have surged in northern Sinai since 2011.
In recent weeks, Egypt's military has stepped up its operation against Islamists in the region.
It is creating a 1km (0.6-mile) deep buffer zone along the border with Gaza by demolishing houses and destroying underground tunnels it says have been used to smuggle weapons from the Palestinian enclave.
A state of emergency was also declared in North Sinai after 33 security personnel were killed in a suicide bomb attack in the regional capital el-Arish on 24 October.
A night-time curfew has since been imposed, police and army patrols have been increased and additional checkpoints have been set up.
Sinai-based militants have stepped up attacks on soldiers and police since the military overthrew President Morsi last year.
Ansar Beit al-Maqdis, a jihadist group that has pledged allegiance to Islamic State (IS) militants in Iraq and Syria, released a video purporting to show it was behind the attack on 24 October.
It has called on Egyptians to rebel against President Abdul Fattah al-Sisi, the former military chief who led the crackdown on Mr Morsi's Muslim Brotherhood. The Brotherhood has said it rejects violence.