Egypt court hears al-Jazeera trio Greste, Fahmy and Mohamed appeal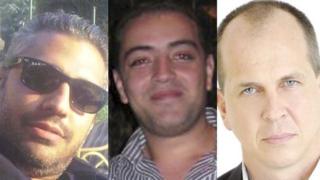 Egypt's highest court has begun hearing an appeal by three al-Jazeera journalists against their convictions for spreading false news.
Peter Greste, Mohamed Fahmy and Baher Mohamed were sentenced in June to between seven and 10 years in prison.
The trio have now spent a year in jail since they were first arrested in December 2013.
The journalists deny collaborating with the banned Muslim Brotherhood and say they were simply reporting the news.
They were accused of aiding the banned organisation after the overthrow of President Mohammed Morsi by the military in 2013.
The court session began at 09:00 local time (07:00 GMT).
Journalists were not allowed into the court to cover proceedings, and none of the defendants appeared to be present.
Thaw in relations
Mr Fahmy's lawyer Negad al-Borai told journalists he was confident that a retrial would be ordered and that the defendants would get bail.
"The court has the right to release them today," he said, quoted by AP news agency.
Previously he had said that all outcomes were possible, including an acquittal or the appeal being thrown out.
Mr Fahmy's brother Adel also said there was a possibility of bail.
Australian Foreign Minister Julie Bishop on Monday played down hopes of a release, pointing out that there had been mixed signals from the Egyptian authorities.
The BBC's Orla Guerin in Cairo says that the case has been hugely damaging for Egypt and there are strong indications that the authorities want to bring it to a close.
A recent thaw in relations between Cairo and Qatar - which owns the TV channel - has heightened expectations, our correspondent says, and there is a growing belief here that the journalists will eventually be freed even if the time frame is uncertain.
If their appeal is rejected the trio could be pardoned by President Abdul Fattah al-Sisi.
Alternatively he could deport the two foreign nationals - Australian Peter Greste, who is a former BBC correspondent, and his producer colleague Mohammed Fahmy who holds Egyptian and Canadian citizenship.
President Sisi has said in the past he wished the journalists had been deported rather than being put on trial.
Relatives say they are hopeful but cautious.
Peter Greste's father Juris said they would not be certain of anything until they were in a plane taking their son back home.
The court is to examine whether the proper legal procedures were followed in the case of the journalists and four Egyptian students who were convicted alongside them.