Lebanon's Syria refugee move prompts media concern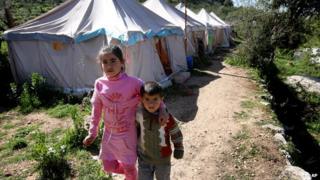 The introduction of a new visa regime for Syrians in Lebanon has caused alarm among some commentators, especially social media users.
In remarks carried by Lebanon's centrist Al-Anwar daily, a senior security official, Maj Gen Abbas Ibrahim, appears to play down the new rules, saying that "Syrians do not require visas for Lebanon" but "paperwork" that applies to "all other foreigners".
But the pro-Syrian paper Al-Safir voices concern that the new regulations will "increase the suffering of not only Syrian refugees, but also for Syrian families residing in Lebanon".
According to the daily, the Syrian envoy to Beirut, Ali Abdelkarim, has criticised the Lebanese authorities for taking a "unilateral" decision "without co-ordinating with the Syrian government".
"These regulations have caused discomfort to the Syrian government," the official is quoted saying.
In Syria itself, state TV ignored the story in its morning news bulletins, focusing instead on the latest fighting there.
'Exit visas' for militants
However, social media users are vociferous in their opposition.
Syrian TV presenter Faisal al-Qasim, who works for the Qatari-owned satellite channel al-Jazeera, says Lebanon would do better to focus on pro-Syrian Lebanese militants reportedly fighting on the Syrian government's side.
"Lebanon can stop the flow of refugees onto its territory by preventing the Lebanese militias from killing them and making them flee their country," he tweets.
Another Twitter user, Wael al-Misri, agrees: "Ok then, will Lebanon ask the mercenaries of the terrorist Hezbollah organisation for an exit visa to enter Syria?"
Some also argue that Lebanon should repay Syrians for welcoming its refugees during the Hezbollah-Israel conflict eight years ago.
"Did Lebanon forget what Syria did during the 2006 war when it hosted Lebanese refugees?" Saudi political analyst Khalid al-Zaatar asks.
But others are more understanding, saying Lebanon needed to end the risks posed by the refugee crisis.
Around 1.1 million Syrians are registered as refugees in Lebanon, and there are fears their presence could upset the country's delicate religious and sectarian balance.
Fayiq Yazidi, who describes himself as a Kurdish writer, tweets: "This is the best decision Lebanon has ever taken, as it suffered much from the Baath regime and Syrians."
BBC Monitoring reports and analyses news from TV, radio, web and print media around the world. You can follow BBC Monitoring on Twitter and Facebook.