Islamic State 'beheads guerrilla' in eastern Syria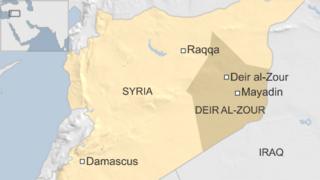 Islamic State (IS) is reported to have beheaded a man who they accused of setting up a guerrilla cell in eastern Syria that attacked its fighters.
His decapitated body was crucified in the town of Mayadin, in Deir al-Zour province, the UK-based Syrian Observatory for Human Rights says.
IS claimed the man had set off an explosion at a restaurant and booby-trapped vehicles used by the group.
Another four men were reportedly killed by IS in the city of Deir al-Zour.
They were accused of having links with the Syrian government, according to the Syrian Observatory.
"One was arrested for smoking a cigarette," its director, Rami Abdul-Rahman, told the Reuters news agency. "Only later did Islamic State accuse him of being an informer for the regime."
Syria's state news agency, Sana, said IS had killed three civilians and displayed their bodies in Mayadin.
IS 'police' targeted
This is not the first time that there have been reports of resistance to IS in Mayadin.
The group's religious police force - known as the Hisbah - has been targeted recently by armed men.
Earlier this month, the Syrian Observatory said the force's Egyptian deputy commander in the area had been abducted, tortured and beheaded. Days later, several other members of the Hisbah were seized.
And on Saturday, three pro-IS activists were reportedly killed in and around the town of al-Bulil, not far from Mayadin.
The Syrian Observatory says small groups of Syrians are hunting down IS fighters as part of a guerrilla campaign that has emerged as a response to the group's brutality.
The leader of one group, calling itself White Shroud, claimed in October it had killed more than 100 jihadists in Deir al-Zour province.