Syria conflict: Air strike on Damascus suburb 'kills dozens'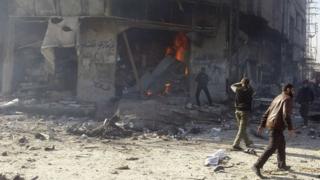 More than 30 people have been killed in air strikes by Syrian government warplanes near the capital Damascus, activists say.
Six children were among 32 people who died in several raids on the suburb of Hamouriyeh, the UK-based Syrian Observatory for Human Rights reported.
Local Coordination Committees, another opposition activist group, said the death toll was at least 35.
Syrian government officials have yet to comment on the incident.
Witnesses said the strikes hit a busy public square in a rebel-held district of Hamouriyeh in eastern Ghouta.
Activist Abu Yazan told the AP news agency that the raid had targeted a popular market.
Moscow talks
Exploratory peace talks between the Syrian government and some opposition figures are due to begin in Moscow next week.
Russia's foreign minister has said that he hopes that the talks will help advance a settlement.
But finding a resolution will be difficult as several prominent members of the Syrian opposition will not attend.
The Syria National Coalition (SNC) has refused to take part in a process that does not envisage the departure of Syrian President Bashar al-Assad.