Syria conflict: Mixed reaction to President Assad's BBC interview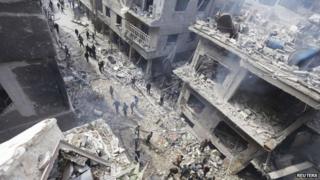 The BBC's interview with Syrian President Bashar al-Assad has resulted in a mix of reactions across the Arab world.
Facebook and Twitter users objected to President Assad's denial that his government was using so-called barrel bombs against civilians.
But the interview carried out by BBC Middle East editor Jeremy Bowen drew little comment from Middle Eastern news outlets.
Regional media
Most outlets let the Syrian president's words speak for themselves, with Syria's state-run news agency SANA publishing a word-for-word transcript of the interview.
State-controlled sources in Iran, such as the IRNA news agency, carried relatively brief, neutral reports, but all led with Mr Assad dismissing any co-operation with the US-led coalition in the fight against Islamic State militants.
The ultra-conservative Fars news agency, affiliated to Iran's Revolutionary Guards, gave the most detailed report, with the anti-Washington heading: "Syria will not be a puppet at the hands of the US".
Social media
It was on social media that the strongest and most immediate reactions to the BBC interview were aired.
While the majority of posts regarding the Syria conflict were on the subject of regime forces bombing the suburb of Douma, the barrel bomb denial became a subject of online discussion through the Arabic hashtag #Douma_is_being_exterminated" and its English equivalent #Douma_Exterminated.
The Syria Civil Defence Twitter account posted this:
That hashtag - #not barrelbombs - was used several hundred times in a matter of hours.
But some pointed a finger at the BBC for allowing the interview to be aired in the first place. "Assad's lies & his Schizophrenia r pathetic. But the most ugly who help him to circulate such sick propaganda," Mohamad Fattouh, a London-based Syrian journalist wrote.
Another, The Revolting Syrian, posted YouTube videos of reported barrel bomb attacks and tweeted this.
In direct reference to al-Assad's denials in the interview, Twitter user Ammar Alzeer posted a picture of destroyed buildings with the caption: "The destruction incurred by Coca Cola boxes that the criminal Al-Assad helicopters have been aiming on Duma".
Not all tweets were critical of Assad though:
And a pro-government Facebook user said: "The interview did not aim to shed any light on the future. Bowen merely served as a prosecutor building a case against a defendant, forgetting in the midst of his hate the fact that terrorists are funded by the Gulf and trained by Israel".
BBC Monitoring reports and analyses news from TV, radio, web and print media around the world. You can follow BBC Monitoring on Twitter and Facebook.