Egypt court overturns 36 Brotherhood death sentences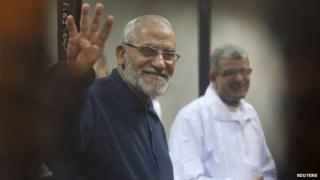 A court in Egypt has overturned death sentences given to 36 members of the banned Muslim Brotherhood, including its spiritual leader Mohammad Badie.
They were among 183 people condemned in connection with a 2013 attack on a police station in the central province of Minya that left two policemen dead.
The Court of Cassation gave no reason on Wednesday for ordering a retrial.
Hundreds of people have been sentenced to death since the military overthrew President Mohammed Morsi two years ago.
The mass trials, along with a crackdown on Islamists that has seen more than 1,400 killed, have drawn widespread international criticism, with the UN describing them as "unprecedented".
Mr Badie has been sentenced to death in three other cases, according to his lawyer. He is serving a life sentence in a Cairo jail given in a fifth case.
Lightning trial
The Brotherhood's general guide was first convicted over the attack on the police station in the village of Adwa along with 682 others in April 2014, after a lightning trial that activists said severely violated the defendants' due process rights.
The provisional death sentences were sent to Egypt's Grand Mufti, the country's pre-eminent interpreter of Islamic law, for review.
In June, the court confirmed 183 of the 683 death sentences, including that of Mr Badie. Four others were meanwhile given lengthy prison terms and 496 acquitted.
Of the 183 defendants sentenced to death, 147 were tried in absentia, which meant that only 36 had their case heard by the Court of Cassation and will now face retrial.
The attack on the Adwa police station took place during riots in mid-August 2013 that were triggered by the security forces' violent clearances of two sit-ins in Cairo by supporters of Mr Morsi.
Activists say almost 1,000 people were killed in the dispersals at Rabaa al-Adawiya and al-Nahda Squares.