Yemen crisis: Houthi rebels threaten to try ministers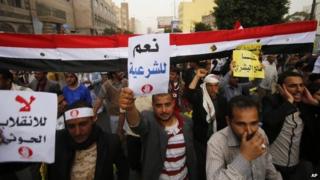 Shia rebels in Yemen have threatened to try for treason Prime Minister Khaled Bahah and all members of his cabinet if they refuse to return to work.
The Houthis ordered Mr Bahah and his ministers to resume their duties on Sunday, but they have declined.
Yemen has not had a government since 22 January, when President Abdrabbuh Mansour Hadi and the cabinet resigned after being placed under house arrest.
Mr Hadi fled the capital, Sanaa, for the southern city of Aden on Saturday.
He has denounced the Houthis' takeover as a "coup" and declared all the measures they have announced in the past month "null and illegitimate".
After receiving the backing of the governors of six southern provinces in Aden on Sunday, Mr Hadi insisted he was still Yemen's legitimate leader.
Officials noted that he had tendered his resignation under pressure while under house arrest and that it had not been approved by parliament.
The rebels have installed a "presidential council" to replace him.
'Safe place'
On Monday, Al-Masira TV, a channel run by the Houthis, reported that the rebels would refer to prosecutors any ministers who did not return to work, in line with an order by the Supreme Revolutionary Committee created by the rebels earlier this month.
Later, Al-Masira said 17 ministers had agreed to resume their duties.
Meanwhile, thousands of people took to the streets of Sanaa to show their support for Mr Hadi, according to the AP news agency, echoing statements by all but one of the main political factions.
On Sunday, Mr Hadi told UN envoy Jamal Benomar by telephone that he remained committed to the political transition process begun in 2011 when his predecessor Ali Abdullah Saleh was forced to hand over power following months of anti-government protests.
The process includes turning Yemen into a federation of six regions, something the Houthis reject.
The president also welcomed the UN Security Council resolution of 15 February demanding the Houthis "immediately and unconditionally" withdraw forces from government institutions in Sanaa and engage "in good faith" in the peace talks mediated by Mr Benomar.
On Thursday, Mr Benomar declared a "breakthrough" at the talks, saying the Houthis and their rivals had agreed on the creation of a "People's Transitional Council" to help govern the country and give voice to groups not represented in parliament.
Mr Hadi expressed "reservations about continuing the current negotiations in Sanaa", according to a read-out of his telephone conversation with the UN envoy on Sunday.
He also "requested they be transferred to a 'safe place' to which the parties should agree", it added.
Sources close to Mr Hadi said his nephew Nasser Ahmed Mansour Hadi, a member of the cabinet, was abducted by Houthis on Saturday as he tried to leave Sanaa for Aden.
The Arabian Sea port is jointly controlled by troops loyal to the president, who is from the South, and members of an allied local militia, the Popular Resistance Committees.
The Houthis have taken over predominantly Sunni parts of central and western Yemen in recent months, sparking battles with tribesmen and al-Qaeda in the Arabian Peninsula (AQAP), after advancing from their stronghold in the far north and entering Sanaa in September.