Islamic State seizure of Syria Christians: What we know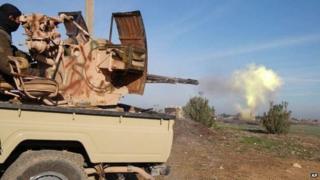 Dozens of Assyrian Christians have been abducted by jihadist militants from Islamic State (IS) in the north-eastern Syrian province of Hassakeh, activists and community leaders say.
The BBC News website looks at what is known about the incident, which has prompted international outrage.
---
What happened?
Shortly before dawn on 23 February, IS militants swept into around a dozen villages located on the southern bank of the Khabur river, near the town of Tal Tamr. Men, women and children were taken captive.
Residents of villages on the north bank were able to escape. Among them were Danny Jano, his wife and two children, who lived in Tal Massas.
"We heard gunfire and shelling for seven hours before we decided to leave our house," he told the AFP news agency.
Mr Jano said his family and fellow villagers fled in tractors and cars under repeated gun- and mortar fire, and that it took five hours to reach safety.
On 25 February, activists and community leaders said between 3,000 and 5,000 people had taken refuge at churches in the largely Kurdish-controlled provincial capital of Hassakeh, to the south-east, and Qamishli, another city to the north-east.
"This is a crime against the peaceful Assyrian people. They (IS) destroy coexistence, civilisation, and history, and they're dragging us centuries backwards, while the international community watches in silence. It's a massacre," said Yukhana Harun, the head of Assyrian Democratic Party.
---
How many people were seized?
Accounts of the numbers vary.
It is also unclear whether people were abducted in the chaotic two days following the initial raids on 23 February, during which Kurdish and Christian militia backed by US-led coalition aircraft battled IS militants for control of the Tal Tamr area.
The Syrian Observatory for Human Rights, a UK-based monitoring group with a network of activists in Syria, reported on 24 February that at least 90 people were missing. But on 26 February, it said at least 220 people from 11 villages had been seized over three days.
Citing its own sources and other local organisations, the Sweden-based Assyrian Human Rights Network reported on 26 February that at least 255 people were missing, most of them women, children and elderly people. The Assyrian Federation of Sweden said 285 people were missing.
Younan Talia, a senior official with the Assyrian Democratic Organization, part of the Syrian opposition, told the Associated Press that IS had raided 33 Assyrian villages, picking up as many as 300 people along the way.
Kino Gabriel, a spokesman for the Syriac Military Council, a Christian militia fighting alongside the Kurdish Popular Protection Units (YPG), told the BBC that between 350 and 400 civilians had been taken, and that some had already been killed.
On 26 February, Assyrian activist Admon Gabriel told the BBC that 20 families were also still trapped in a village near Tal Tamr.
---
Who are the captives?
Assyrians are Nestorian Christians. They speak Syriac, a form of Aramaic, the language of Christ.
There were believed to about 40,000 living in Syria before the uprising against President Bashar al-Assad began in March 2011. The largest concentration was in Hassakeh province, but there were also smaller communities in Aleppo, Homs and Damascus.
About 3,000 were living in the 35 villages dotted along the Khabur river in the Tal Tamr area, according to the Assyrian International News Agency.
The AINA published a partial list of the names of the people it said were missing, but little more is known.
Osama Edward of the Assyrian Human Rights Network, who has relatives in the area, told the BBC that his wife's elderly aunt and her cousin were among the captives.
"My wife tried to call her cousin's house and there was somebody who picked up the phone and said: 'This is not Akram's house. This is the Islamic State's house'."
---
Where have they been taken?
The Syrian Observatory for Human Rights and Kino Gabriel of the Syriac Military Council said the Assyrians had been taken to Abdul Aziz mountain, 27km (17) miles south of Tal Tamr.
The Assyrian Network for Human Rights and Syria's state news agency, Sana, meanwhile reported that the captives had been moved to the IS stronghold of Shaddadi, an Arab town 74km (46 miles) to the south.
One report said the Assyrians might already be in Raqqa, 145km (90 miles) to the south-west, the de facto capital of the IS "caliphate".
Zaya Haido of the Assyrian Relief and Aid Council told BBC Arabic on 26 February that it had no information about their whereabouts, but confirmed Arab Muslim tribal leaders were attempting to negotiate their release in an exchange for IS fighters held by Christian and Kurdish militia.
The AINA said IS had agreed in principle to release civilians who during the raids had "offered no resistance, but flatly rejected releasing those who fought back".
---
Why were the Assyrians targeted?
The motive for the seizure of so many Assyrians is not yet clear and IS has not commented.
Reports suggest that at least some of the captives are to be used as part of a prisoner swap, but activists have suggested that IS may have other purposes in mind.
Bassam Ishak, president of the Syriac National Council of Syria, told Reuters news agency that some people who had called their relatives' mobile phones had been told by members of IS that they would be sent their heads.
Mr Edward meanwhile told AP: "In addition to its strategy of terrifying people, taking hostages to use as human shields to protect from coalition air strikes is another of their goals."
The attack on the Assyrians also came a day after Kurdish YPG fighters launched a major offensive against IS some 100km (60 miles) to the east, near the Iraqi border - an area of vital importance to the jihadist group. IS may have been seeking to retaliate or open up another front, analysts say.
The jihadist group also has a history of targeting religious minorities, and it appears to view Christians primarily as enemies that must be fought and subdued.
It has told Christians living in its territory to either convert to Islam, pay a special tax called jizya, or face war. And a few weeks ago, Assyrians in the Tal Tamr area were instructed by IS to remove crosses from churches and pay jizya, according to the AINA. They reportedly did not comply.
Activists reported on 25 February that two historic churches had been burned down in villages captured by IS - one in Tal Hurmiz and the other in Qaber Shamiya.