Syria conflict: Clashes near Aleppo intelligence HQ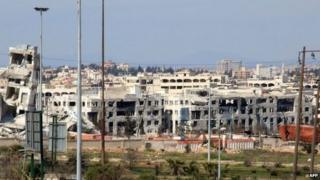 Fierce clashes are taking place in the Syrian city of Aleppo, near the Air Force Intelligence facility attacked by rebels on Wednesday, activists say.
A security source was quoted as saying that government forces had launched an assault on rebel positions in the west of the city on Thursday morning.
There was no immediate information on casualties.
But elsewhere in the city, at least 18 civilians were reportedly killed in a government barrel bomb attack.
A bomb dropped by a military helicopter struck a shop selling petrol and diesel fuel in the eastern district of Qadi Askar, triggering a blaze that burned people who survived the initial explosion, activists said.
Human rights groups say the government has dropped hundreds of barrel bombs - large cylindrical metal containers filled with explosives and shrapnel - indiscriminately on rebel-held areas over the past year, killing or wounding thousands of civilians.
President Bashar al-Assad has denied the military uses barrel bombs.
'Fierce attack'
Air Force Intelligence's headquarters in Aleppo's Jamiat al-Zahra district has been a key target for the rebels ever since the battle for Syria's second city began, and they have tried many times to capture it.
Wednesday afternoon's attack began with the detonation of a large quantity of explosives placed in a tunnel under the building.
Immediately after the blast, fighters from the al-Qaeda-affiliated al-Nusra Front and hardline Islamist rebel groups launched a ground assault. But they were reportedly repelled by government forces. Twenty soldiers and militiamen and 14 rebels were said to have been killed.
On Thursday morning, heavy fighting resumed in the area, with both sides shelling the other, the UK-based Syrian Observatory for Human Rights reported.
A Syrian military source confirmed "ongoing clashes" in the area after "a fierce attack was launched by the army this morning against [rebel] gunmen positions, killing and wounding many of them," the AFP news agency reported.
Aleppo has been divided between rebel and government control since fighting erupted in the city in mid-2012.
But soldiers, backed by pro-government militiamen and fighters from Lebanon's Hezbollah movement, have made steady advances since launching an offensive to retake rebel-held parts of the city last year.
The latest fighting came after the UN special envoy to Syria, Staffan de Mistura, sent a delegation to Aleppo in an effort to get both sides to agree to local ceasefires in the city.
On Sunday, the main opposition and rebel factions in Aleppo rejected the proposal, saying they would refuse to discuss it with Mr de Mistura.
They said they would only engage in talks if they were based on an understanding that a "comprehensive solution to the Syrian crisis" would include the exit of Mr Assad and his inner circle from power and the "prosecution of war criminals".