Syria conflict: 'Dozens die' in Latakia village battle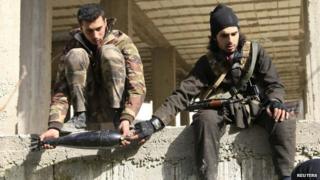 More than 50 government soldiers and rebels have been killed in a battle for control of strategic village in north-western Syria, UK-based monitors say.
Rebels led by al-Nusra Front launched an all-night assault on Doreen, Latakia province, the Syrian Observatory for Human Rights reports.
A Syrian military source told Reuters the army had repelled the attack.
Troops had captured Doreen, on a mountain overlooking rebel positions in the town of Salma, only a week ago.
Al-Nusra, al-Qaeda's affiliate in Syria, is the strongest rebel group in western Syria.
But it suffered a blow earlier this month when its military chief was killed in an air strike in Idlib province that was claimed by the government.
Assad heartland
The Syrian Observatory for Human Rights, which relies on a network of activists on the ground in Syria, said jihadists from al-Nusra backed by fighters from Islamist rebel groups had attacked Doreen on Wednesday night.
The rebels were driven back, it said.
"Al-Nusra managed to retake parts of the village but the regime still controls the mountaintop that overlooks Salma," the Syrian Observatory's director, Rami Abdul Rahman, told AFP news agency.
Between 25 and 40 insurgents were killed and a small number of Syrian soldiers suffered light wounds, the military source told Reuters.
Salma and Doreen, which had been controlled by the rebels more than a year, sit in a mountainous area known as Jabal al-Akrad.
The mainly Sunni Arab area is the main rebel stronghold in Latakia province, the heartland of President Bashar al-Assad's Alawite sect.
Elsewhere in Syria on Thursday, at least four people were killed when a suicide bomber blew up an explosives-filled car at an army checkpoint in the central province of Homs, state media report. The Syrian Observatory said those killed were soldiers.