North African Media galvanized by Tunis attack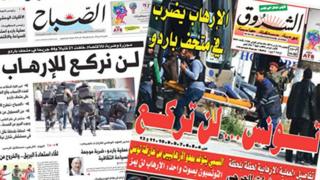 Media in North Africa are expressing solidarity with Tunisia after Wednesday's attack on the Bardo museum in the capital Tunis in which 20 foreign tourists were killed along with Tunisians, including the two gunmen themselves. Tunisian papers pledge "not to bow" to terrorism.
Several hashtags have sprung up on Twitter to condemn the attack and express solidarity with Tunisia, such as the Arabic and French hashtags #Long_live_Tunisia, #JeSuisBardo and #JeSuisTunisien.
Another hashtag picks up the slogan of the 2011 uprising in Tunisia: "If one day the people were to want life."
The Arabic hashtag #Tunis_foray, used mainly by jihadists who support the attack, has attracted more than 25,000 comments in less than 24 hours.
'Tunisia will not bow'
A red bold banner headline of the liberal Tunisian Alchourouk daily reads: "Tunisia will not bow." It echoes that of another private daily, Al-Sabah, which says: "We will not bow to terror."
Tunisia's state-funded Essahafa daily describes the attack as a "cowardly act of terrorism which targets the symbol of national sovereignty," alluding to the fact that parliament was in session right next to the Bardo museum.
Another Tunisian paper, Al-Masdar, publishes what it says are photos of the "terrorists who carried out the attack" lying in pools of blood with their machine guns nearby.
'This is war'
Commentators are urging Tunisians to unify behind their government and security forces.
Ziyad al-Hani in Tunisia's Essahafa newspaper says the "strong and symbolic answer needed to such a terrorist act is holy national unity that rises above all other considerations and interests".
The same call is made by writer Murad Alalah in the same paper, who says: "This is war. Yesterday's 'foray' is a new deadly round won by enemies. But this is not the end." The only way to win the war, he says, is to "join efforts with our honest partners and neighbours in the East and West".
Writer Lufi al-Arabi is critical of the "weak security system" which "laid waste to the tourism season". She says in Essahafa said that a threat was mentioned in a website affiliated to the extremist Salafists Fajr al-Qirwan, one day before it was carried out.
'One battle'
In a show of solidarity, Algeria's Al-Nasr paper said in a front-page headline: "President Bouteflika reaffirms Algeria's support for Tunisia during hard times."
Terrorising Tunisia "targets the Arab Spring", says an editorial in Qatar's Al-Rayah daily, which calls on Tunisians to back the current government to protect democratic gains.
But commentator Hidah Hizam in Algerian leftist Al-Fadjr daily says that Tunisia cannot be secure until "the Libyan problem is solved, as it directly affects Tunisia". Weapons smuggling, and the unchecked flow of refugees which could include extremists are threatening the security not only of Tunisia, but Algeria and other countries on the North African coast.
Egyptian media are quoting Tunisian President Essebsi as saying in a phone conversation with his Egyptian counterpart, Abdul Fattah al-Sisi, that there is a need for uniting regional and international efforts to combat terrorism. They says this could signal a possible change in Tunisia's stand on taking part in a proposed joint Arab Force, which it rejected earlier as "unrealistic".
The joint Arab Force is due to be discussed at an upcoming Arab summit in Egypt this month.
State-run Egyptian daily Al-Jumhuriyah carries the banner headline: "Al-Sisi: Terror has no border or religion; Essebsi: Our battle is one. We [regional and world countries] have to join forces."
BBC Monitoring reports and analyses news from TV, radio, web and print media around the world. You can follow BBC Monitoring on Twitter and Facebook.