Egypt Mubarak-era minister Adly cleared in last case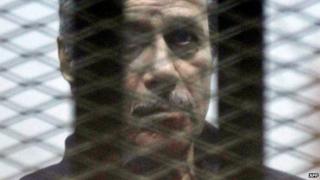 A court in Egypt has acquitted former Interior Minister Habib al-Adly of a corruption charge, the last in a string of cases he has faced since 2011.
The verdict clears the way for Mr Adly to be released from prison.
He has served a three-year sentence he was given for taking advantage of his position and forcing police conscripts to work on his property.
Mr Adly was Hosni Mubarak's top security official overseeing the police force before the president was ousted.
In November, a court dropped charges against the two men over the killing of hundreds of protesters during the 2011 revolution.
They had been found guilty and sentenced to life in prison in 2012, but the following year the country's top appeals court ordered a retrial.
Asset freeze lifted
On Thursday, the Giza Criminal Court cleared Adly of the charge that he had illegally amassed $23.7m (£16.1m) of public money.
It also lifted an asset freeze on the former minister and his family.
Mr Adly's lawyer, Mohammed al-Gendy, said he expected his client to be released soon. "Keeping him in jail for another hour would be illegal," he told the AFP news agency.
A number of Mubarak-era officials have secured acquittals since the military overthrew President Mohammed Morsi in 2013 and its former commander-in-chief Abdul Fattah al-Sisi took power.
Hundreds of Islamist supporters of Mr Morsi, including several senior figures in the now-banned Muslim Brotherhood movement, have meanwhile been sentenced to death.
Many of the liberal and secular activists who spearheaded the uprising against Mr Mubarak have also been imprisoned for violating a controversial law restricting protests.
In a separate development on Thursday, the retrial of two Al Jazeera journalists accused of spreading false news and aiding the Muslim Brotherhood was adjourned until 25 March by a court in Cairo.
The court ordered the creation of a new technical committee to review the work of Mohamed Fahmy, a naturalised Canadian who gave up his Egyptian citizenship earlier this year to be able to be deported, and Baher Mohamed, an Egyptian national.
The decision came after experts who served on the technical committee at their original trial admitted that they had not seen all the video collected as evidence. The committee had concluded that the journalists broadcast footage harmful to Egypt's security.
Mr Fahmy and Mr Mohamed were released on bail in February after more than a year in prison. A third Al Jazeera journalist, Australian Peter Greste, was deported earlier that month.