Iran nuclear talks: Deal can be reached, says Rouhani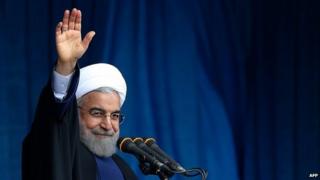 Iran's President Hassan Rouhani says that progress made in nuclear talks means a final deal can be reached.
"There is nothing that cannot be resolved," although some differences still remain, Iranian state media quoted him as saying.
US Secretary of State John Kerry also said that "substantial progress" had been made in the talks.
Six world powers are negotiating a deal with Iran aimed at limiting its nuclear activity, with a late March deadline.
Iran insists its nuclear programme is for peaceful purposes but world powers fear it has military ambitions.
'Intensive verification'
Mr Rouhani said that in the current round of talks in Lausanne, Switzerland, "shared points of view emerged in some of the areas where there had been a difference of opinion".
They could become "a foundation for a final agreement", he said, according to state news agency Irna.
---
Analysis: Emily Buchanan, BBC world affairs correspondent
The stakes are high for all sides and there are major sticking points, but still an outline agreement in 10 days' time looks possible.
For Iran's leaders, ruling a country creaking under the weight of sanctions, the prospect of an economic revival is tantalisingly close. But they must not be seen to lose face to the West.
For US President Barack Obama, a "historic" deal would be a foreign policy triumph. Without one, the pressure could grow from Israel and from Republicans in Congress for military action against Iran.
For the EU, there would also be a "diplomatic dividend" and more trade. But the French do not want to rush things. They strongly oppose any weak agreement that might let Iran develop nuclear weapons in the future.
---
Speaking separately in Lausanne, Mr Kerry said "genuine progress" had been made, although "important gaps" remained.
The US wanted "a comprehensive and durable agreement... whose implementation is not based on trust, but based on intensive verification", Mr Kerry said.
Later on Saturday, Mr Kerry travelled to London to meet his counterparts from the UK, Germany and France.
They were to discuss their negotiating position and try to resolve any sticking points before talks continue next week in Switzerland.
UK Foreign Secretary Philip Hammond said after the talks that the parties agreed substantial progress had been made in the nuclear talks.
Iran has been in talks with the so-called P5+1 - the US, UK, France, China and Russia plus Germany - who want it to scale back sensitive nuclear activities to ensure that it cannot develop a nuclear weapon.
In return, the world powers have offered to lift sanctions that have crippled Iran's economy.
Both sides have set themselves deadlines of 31 March for a political framework agreement and 30 June for a final deal.
According to unnamed officials talking to the Associated Press news agency, the deal being discussed would commit Tehran to a 40% cut in the number of machines it could use to make an atomic bomb.
In return, economic sanctions would be eased and a UN embargo on conventional arms would be partially lifted.
'Arrogant powers'
On Friday, US President Barack Obama said in a video message to the Iranian people that there was "an historic opportunity to resolve this issue peacefully".
But in a reminder of more hardline attitudes within the Iranian leadership, Supreme Leader Ayatollah Ali Khamenei reacted by warning against submitting to foreign demands in order to achieve economic growth.
Sticking points in the nuclear talks are thought to include the pace at which sanctions would be lifted, how long the deal will last and how much of Iran's nuclear facilities will be open to inspection.
The UN Security Council has adopted six resolutions since 2006 requiring Iran to stop enriching uranium, with sanctions to persuade Iran to comply.
The US and EU have imposed additional sanctions on Iranian oil exports and banks since 2012, hitting Iran's oil revenue badly.