Iran nuclear deal: Complex details delay agreement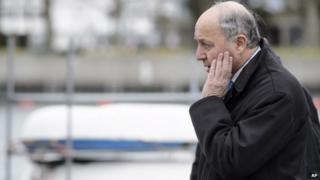 Negotiations for a deal on Iran's nuclear programme are stretching into a second extended day, with reports of some progress but no final result.
Talks in Lausanne, Switzerland, went on all night, breaking off at 06:00 (0400 GMT) and resuming three hours later.
Correspondents say there is agreement on broad outlines but complex details are delaying any announcements.
World powers are working to curb Iran's nuclear programme in return for sanctions relief.
The negotiations between the so-called P5+1 - the US, UK, France, China and Russia plus Germany - and Iran at Lausanne's Beau-Rivage Palace hotel were supposed to end on 31 March.
The P5+1 deal seeks to ensure Iran could not assemble a nuclear weapon in less than a year. The Iranians insist that they have no such ambition.
'Sunrise ahead'
US Secretary of State John Kerry has extended his stay, although other foreign ministers had been coming and going.
The BBC's Barbara Plett Usher in Lausanne says although the negotiators appear to have reached the broad outlines of an agreement, they are stuck on details regarding Iran's nuclear research and the timing of sanctions relief.
---
Analysis: BBC's Barbara Plett Usher in Lausanne
This is a fluid situation, with little information leaking out of the talks and expectations veering between an imminent deal or none at all.
All negotiators keep saying there has been progress, but not enough yet for an agreement.
The key sticking points are well known: the limits on Iran's freedom to conduct advanced nuclear research and a framework for lifting UN sanctions. These are more complicated than US and European economic sanctions, because they directly target Iran's nuclear programme and would be more difficult to re-impose once lifted.
But the main difficulty might be the competing approaches of the two main negotiators, the Americans and the Iranians.
The Obama administration needs as much detail as possible in this preliminary accord to counter opponents in Congress. The Iranians want as little as possible to keep critics quiet while they focus on getting a final comprehensive settlement.
---
Western officials have complained of Iranian intransigence, but Iranian Foreign Minister Mohammad Javad Zarif has claimed the other side are using pressure tactics and making excessive demands.
On Thursday he urged the world powers to "examine among themselves the results of the negotiations. We don't know yet the result".
Mr Zarif added: "This should happen this morning. If these solutions are approved, it is expected that there will be a joint declaration made by me and [EU foreign policy chief Federica] Mogherini.
"There will be a statement to the press which should be announced but the text still has to be worked on."
Iranian nuclear negotiator Ali Akbar Salehi was positive, saying "the sunrise is just ahead".
Mr Zarif suggested that the real difficulties would lie in the months ahead when negotiators would have to hammer out the technical issues, which he called an "immense task".
Such talks would aim to achieve a comprehensive accord by 30 June.
The basic outline of an agreement is well known.
Iran would scale down its nuclear programme and subject it to rigorous inspection for at least 10 years. In exchange, there would be an easing and eventual end of crippling UN, US and EU sanctions.
However, there are some issues yet to be resolved. These are thought to include:
Sanctions relief - Iran wants the UN sanctions suspended soon after an agreement. The P5+1 says they should be eased in a phased manner, with restrictions on imports of nuclear-related technology remaining for years
Non-compliance - The US and its European allies want a mechanism that would allow suspended UN sanctions to be put back into effect rapidly if Iran reneges on a deal. Russia reportedly accepts this, but wants to ensure its Security Council veto rights are protected
Centrifuges - Iran wants to develop advanced centrifuges that can enrich uranium faster and in greater quantities