Yemen conflict: UN places arms embargo on Houthi rebels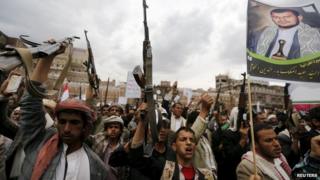 The UN Security Council has imposed an arms embargo on Yemen's Houthi rebels and allies including former President Ali Abdullah Saleh and his son.
Saudi-led air strikes have been targeting Houthi strongholds in recent weeks in response to the rapid rebel advance across the country.
In a separate development, al-Qaeda in Yemen says its top clerical leader has been killed in a drone strike.
The group has made territorial gains in Yemen since the recent upheaval began.
The cleric, Ibrahim al-Rubaish, had a $5m (£3.4m) bounty on his head. There has been no confirmation of his death from Yemeni or US officials.
The group, which calls itself al-Qaeda in the Arabian Peninsula (AQAP), is also fighting the Houthis.
Air strikes and fighting on the ground have pushed the country to the brink of collapse.
The UN says at least 736 people have been killed and 2,700 injured since 26 March, but officials believe the actual death toll may be far higher.
Withdrawal demand
The UN Security Council resolution targets Abdul Malik al-Houthi and two other senior rebel leaders, Abd al-Khaliq al-Houthi and Abdullah Yahya al-Hakim, as well as Mr Saleh and his eldest son Ahmed, a former commander of the elite Republican Guard force.
The embargo also applies to "those acting on their behalf or at their direction in Yemen" - effectively all rebel fighters and Saleh loyalists in the security forces.
The Security Council also imposed a global asset freeze and travel ban on Abdul Malik al-Houthi and Ahmed Saleh. The other three men were blacklisted in November.
The resolution demanded that the Houthis withdraw from areas they have seized, including the capital Sanaa, and resume negotiations on the democratic transition begun in 2011 when Ali Abdullah Saleh was forced to hand over power to Abdrabbuh Mansour Hadi following mass protests.
It was passed by 14 votes to nil. Russia, which had insisted on imposing an arms embargo on all parties, abstained.
The US has said it is speeding up arms supplies to the coalition and has accused Iran of providing military assistance to the rebels - something both have denied.
Separately on Tuesday, the UN high commissioner for human rights called for an investigation into civilian casualties in Yemen.
Zeid Raad Al Hussein said indiscriminate attacks on hospitals and schools could constitute war crimes, and called on all sides to avoid targets in residential areas.