Yemen conflict: Dozens killed in Saudi-led air strikes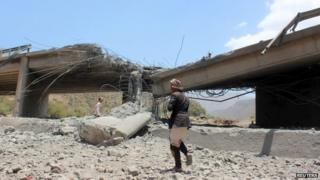 Two Saudi-led coalition air strikes in Yemen have killed almost 30 people, many of them civilians, reports say.
At least 20 died when aircraft bombed a convoy of Houthi rebel fighters on a bridge in the western city of Ibb, residents and security sources said.
Nine others were killed in the northern city of Haradh, near the Saudi border.
Meanwhile, Saudi Arabia's King Salman has ordered its National Guard to take part in the campaign to weaken the rebels and restore Yemen's president.
The National Guard, which has some 100,000 personnel, is regarded as the Sunni-ruled kingdom's best equipped ground force.
Health service 'near collapse'
Yemen has been in chaos since the Zaidi Shia rebels known as Houthis, backed by army units loyal to ousted former President Ali Abdullah Saleh, took full control of Sanaa in January and placed President Abdrabbuh Mansour Hadi under house arrest.
Mr Hadi escaped and took refuge in Aden in February, but left the country at the end of March when the Houthis reached the outskirts of the southern port city.
Almost a month of coalition air strikes have failed to halt the rebel advance.
The World Health Organization (WHO) said on Tuesday that at least 944 people had been killed and another 3,487 injured in air strikes, fighting on the ground and militant attacks, since 19 March.
The UN agency also warned that health services in Yemen were on the brink of collapse, with life-saving medicines and other key medical supplies running out.
"The major hospitals will soon be completely unable to provide humanitarian and emergency services or to perform operations and provide intensive care to needy patients," it quoted the Yemeni health ministry as saying.
The WHO said water shortages had increased the risk of diarrhoea and other diseases, and was affecting basic hygiene in hospitals and clinics.
Power cuts and fuel shortages have also threatened to disrupt the "vaccine cold chain", leaving millions of children below the age of five unvaccinated.
The International Organization for Migration (IOM) separately announced that it had been forced to suspend its operations to evacuate foreigners from Yemen due to "escalating difficulties faced in undertaking flight operations in recent days".
'Collective punishment'
Earlier, Iran's Deputy Foreign Minister Hossein Amir Abdollahian said he was optimistic that a ceasefire in Yemen would be announced soon.
The Saudi-led coalition has so far rejected Iran's calls for an immediate halt to the air campaign, accusing it of providing military assistance to the rebels. Iran denies the claims.
The US, which is providing intelligence and logistical support to the coalition, has refused to say what action it would take if a convoy of nine Iranian cargo ships, believed to be carrying weapons for the Houthis, entered Yemeni waters.
The US aircraft carrier USS Theodore Roosevelt moved into the area on Monday to "ensure freedom of navigation and commerce".
Senior Houthi official Mohammed al-Bukhaiti told the Reuters news agency that they did not need weapons "from outside", insisting: "We have enough."
He also accused the US of seeking to strengthen the siege of Yemen's sea and airports by the coalition and "put the Yemeni people under collective punishment".