Iran nuclear talks: Zarif plays down nuclear deal hopes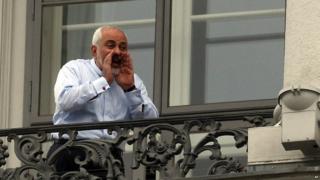 Iran's foreign minister has said the negotiations with six world powers on a comprehensive agreement on its nuclear programme will not conclude on Monday.
There had been reports that a breakthrough was imminent, but Mohammad Javad Zarif told reporters in Vienna there would be no deal before Tuesday.
Diplomats said they were struggling to resolve several points of contention.
They include Iranian demands that a UN arms embargo be lifted and the legality of its nuclear programme recognised.
White House spokesman Josh Earnest said "genuine progress" had been made, but that "significant issues" remained. Iran's leaders had to make some "tough decisions", he added.
The so-called P5+1 - the US, UK, France, China and Russia plus Germany - want Iran to scale back its sensitive nuclear activities to ensure that it cannot build a nuclear weapon.
Iran, which wants crippling international sanctions lifted, has always insisted that its nuclear work is peaceful.
'Tired and overworked'
The BBC's James Robbins in Vienna says the clocks are running exceedingly slowly in the negotiations.
All the key ministers seem close to exhaustion, sending out conflicting signals on the timing of an agreement, our correspondent adds.
Russia's Foreign Minister Sergei Lavrov suggested a deal on Monday night was still possible, but his Iranian counterpart disagreed.
Taking a break from the negotiations at the Palais Coburg hotel, Mr Zarif shouted to reporters that he was tired and overworked. Asked when a deal was likely, he said that Tuesday was possible but not Monday.
Mr Zarif later wrote on Twitter: "If #IranDeal reached, triumph of diplomacy means we all will have won when we all could have lost. Plain and simple; no spin needed."
China's Foreign Minister Wang Yi meanwhile stressed that no deal should be expected to be perfect.
---
Could US Congress torpedo a deal?
It has 60 days to review any agreement
During that time, President Barack Obama cannot lift the sanctions Congress has imposed on Iran
Congress can reject the deal, and keep the sanctions in place, but Mr Obama can veto that
Congress would need a two-thirds majority to overturn the veto, which is unlikely
---
"The conditions are already in place for a good agreement. We believe there cannot and should not be a further delay in the negotiations," he said.
Iran's President Hassan Rouhani had been scheduled to address the nation about the nuclear talks on television on Monday night, but the official Irna news agency subsequently reported that he would only speak when agreement had been reached.
The president's English-language Twitter account later deleted a post that appeared to have been written in anticipation of a breakthrough. "#IranDeal is the victory of diplomacy & mutual respect over the outdated paradigm of exclusion & coercion. And this is a good beginning," it said.
'Certain issues'
On Monday morning, negotiators were reported to be putting the finishing touches to a 100-page accord that included five technical annexes and planned to wrap up the negotiations by midnight, the latest in a series of self-imposed deadlines.
But Iran's Deputy Foreign Minister, Abbas Araqchi, later conceded that "certain issues" remained unresolved.
Diplomats told the Associated Press that they included the International Atomic Energy Agency's investigation into the possible military dimensions of Iran's nuclear programme, as well as Iranian demands that a UN arms embargo be lifted and that its nuclear activities not be described as illegal in any UN Security Council resolution approving the deal.
If a long-term agreement is reached, it still faces a tough ride through the US Congress, which could reject it and leave US sanctions against Iran in place.
Mitch McConnell, the top Republican in the Senate, told Fox News on Sunday: "I think it's going to be a very hard sell... We already know it's going to leave Iran as a threshold nuclear state."
Whenever the talks do finally end, our correspondent says, any deal will be a historic commitment and have the potential to open up not just global trade with Iran but also a new dialogue aimed at far greater co-operation against a shared enemy - the jihadist group, Islamic State (IS).