Israeli soldier charged over killing of wounded attacker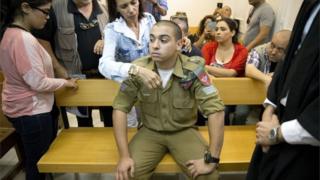 An Israeli soldier who killed a wounded Palestinian attacker in a case which has polarised public opinion has been charged with manslaughter.
Military prosecutors said the soldier "unlawfully caused the death" of Abdul Fatah al-Sharif in Hebron last month.
The incident was caught on video, fuelling the debate around his actions.
The soldier's detention was criticised by some Israelis who say he did nothing wrong, but critics say he committed an extra-judicial killing.
In their indictment, the prosecutors said 18-year-old Sgt Elor Azaria "violated the rules of engagement without operational justification as the terrorist was lying on the ground wounded and represented no immediate threat for the accused or others who were present".
Footage of the incident, filmed by a Palestinian nearby, showed a soldier, identified as Sgt Azaria, cock his gun and shoot the apparently incapacitated 21-year-old Palestinian from several feet away.
Afterwards, Sgt Azaria said he had feared Sharif had been wearing an explosive vest.
However, army investigators said that before he opened fire, the accused had told a comrade that the wounded man "deserved to die" for stabbing his friend.
Sharif and another Palestinian, Ramzi Aziz al-Qasrawi, had stabbed two soldiers at a checkpoint in the city, which is divided between a Palestinian-ruled area and smaller Israeli enclave.
Hebron has seen a rash of stabbings of Israelis amid a wave of attacks by Palestinians or Israeli Arabs in recent months and the case has triggered fierce debate in Israel around the use of deadly force against assailants.
Prime Minister Benjamin Netanyahu, his defence minister and the head of the Israel Defense Forces (IDF) have been accused by right-wing supporters, including members of the cabinet, of not showing sufficient support for the soldier.
Since October, 29 Israelis have been killed in stabbings, shootings or car-rammings.
About 200 Palestinians - mostly attackers, Israel says - have been killed in that time.
The assailants who have been killed have either been shot dead by their victims or security forces as they carried out attacks. Some attackers have been arrested. Other Palestinians have been killed in clashes with Israeli troops amid spiralling violence.