Working Lives UK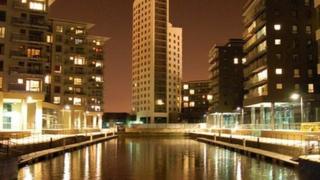 Leeds is one of the biggest cities in the north of England.
First settled in medieval times, it came to prominence during the Industrial Revolution, becoming one of the UK's major centres for engineering, printing and flax processing.
Since the 1970s, the city's clothing industry - once one of Leeds' major employers - fell into decline, with the city developing itself into a post-industrial centre through sectors such as telephone banking. Education and culture - particularly the city's famed nightlife - have also become important in recent years.
Working Lives met up with six people who all live and work in Leeds. Alan Foster is a projectionist keeping the traditions of 35mm film projecting alive at one of the UK's most historic cinemas. Lucy Potter is a charity worker helping some of the city's most deprived residents.
Lawrence Tomlinson is a multi-millionaire businessman who employs thousands of people around Leeds, while Ryan Geldard, a building site manager, is working on the Leeds Arena construction project.
Beverley Simm is the landlady in charge of one of the city's most historic pubs, Whitelock's. And Dr Jake Timothy is a consultant neurosurgeon at Leeds General Infirmary who is pioneering spinal surgery techniques.