Mexican chefs keeping kitchen traditions alive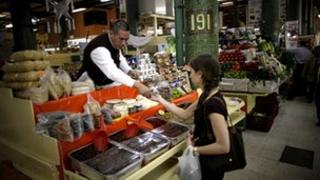 Delicious home-made corn tortillas filled with chilli sauce and grasshoppers as a starter, roasted iguana for the main course and a glass of agave liquor flavoured with worms to chase it all down.
You would rarely see that on the menu of the thousands of Mexican eateries around the world. Yet they are all dishes easily found in the markets and restaurants of Mexico.
For decades, Mexican cooking has been associated with cuisine cooked in the areas bordering the US, the home of 'Tex-Mex' food.
But a new wave of chefs are determined to show the world real Mexican food - one that hasn't yet made it onto menus in New York, Sydney or London.
Unesco recognition
"Unfortunately, the Mexican food served abroad is not at all like ours. There is a misperception that Tex-Mex food - burritos, chilli con carne - is part of our daily diet," says Ricardo Munoz Zurita, a well-known chef and owner of Azul Condesa restaurant in Mexico City.
"Perhaps Mexican chefs don't know how to export their food as well as French, Spanish or Italian cooks," he tells the BBC.
Unesco recognised traditional Mexican cuisine as an example of Intangible Cultural Heritage in 2010, helping raise its profile.
Even US First Lady Michelle Obama - who admits to being a fan of tamales, corn dough rolls often filled with meat - recently launched a campaign promoting healthier Mexican products such as beans.
But changing the outside world's view of the country's food will take some time, Mr Munoz Zurita says.
Restaurants offering pre-Hispanic recipes - from the era before the Spanish arrived five centuries ago - are booming in Mexico City, but have not been so successful abroad.
Special status
So what does the average Mexican actually eat?
"Our daily diet is based on beans, corn and chilli, three ingredients you can find in almost every national dish," says chef Enrique Olvera, owner of Mexico City's Pujol, which was included on the last San Pellegrino list of the finest restaurants in the world.
"The chilli is part of our culture," Mr Olvera says, surrounded by chipotle, pasilla and habanero chillis at San Juan market.
This market attracts chefs and gourmands, drawn by ingredients such as ant eggs, chocolate with cinnamon and freshly ground coffee from the states of Chiapas and Veracruz in the south and east of the country.
But it's not only the ingredients contributing to Mexican cuisine's special status.
"Traditional Mexican cuisine is a cultural and comprehensive model comprising farming, ritual practises, age-old skills, culinary techniques, ancestral community customs and manners," according to Unesco.
Some cooking techniques were inherited from the Aztecs and indigenous communities by the Spanish conquerors, who then combined them with European methods.
The use of the milpa farming process (rotating swidden fields of corn and other crops) is still common in many parts of the country. And Mexicans still use mortars made of volcanic stone to grind avocados to prepare guacamole, just as their ancestors did millennia ago.
Last year, the BBC's Top Gear sparked complaints when it joked of the stereotype of the lazy Mexican, and compared the country's food to "refried sick". Mexicans were deeply offended.
Locals say a walk around any Mexican town would dispel any such attitude. Street vendors serve tacos with fresh cheese, grilled vegetables and marinated meats served with fruits like pineapple. They also sell all manner of fresh juices.
Chefs like Mr Munoz Zurita and Mr Olvera boast of the richness of Mexican products and the varied cooking techniques.
But this traditional Mexican diet has long been under threat from a more modern Western-style one, with calorific junk food and sugar-laden fizzy drinks.
"It was when we stopped eating traditional Mexican food that obesity started to grow," the National Association of Nutritionists says.
Its opinion is taken seriously in Mexico, the second most overweight nation in the world; only the US has higher levels of obesity.
According to the Organisation for Economic Co-operation and Development (OECD),seven out of 10 Mexican adults are overweight, and nearly three out of 10 are obese.
Obesity epidemic
Mexicans are among the world's biggest consumers of soft drinks (according toa study by the market research firm Euromonitor). And obesity-related diseases like diabetes already account for 15% of deaths every year.
According to the health ministry, obesity has become one of the Mexican economy's heaviest burdens. The government is investing more than 1.2% of the country's gross domestic product every year to tackle obesity and its complications.
In 2017 those costs, and the associated loss of labour productivity, will rise to $14bn if the epidemic is not stopped, the government warns.
"Our diet has always been rich in vegetables and unsaturated fats. And actually, Mexican indigenous communities that continue to base their diet on tortillas and salsas are not suffering from weight problems," says Mr Munoz.
With so many Mexicans now facing Western-style health issues, the solution might mean going back to the recipes of their ancestors.