Working Lives Croatia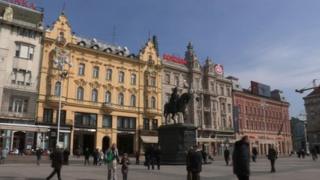 Twenty years ago, Croatia was involved in a bitter armed conflict, fighting for its independence from the former Yugoslavia. It's now facing a different, economic challenge: recession, rising unemployment and high inflation.
For Working Lives, the BBC's Kasia Madera travelled to the capital Zagreb to meet five people living and working in a country which is about to embark on a new chapter as the 28th member of the European Union.
Zvonimir Tkalec is a Segway tour guide. After leaving Croatia to work in Spain, he decided to return to his roots to bring up his young family.
The historic Dolac market in the heart of the capital is where you'll find Snjezana Polic. She's been a fixture at Zagreb's famous market for 16 years selling her fruit and vegetables.
For 27-year-old mechanical engineer, Albert Salicunaj, the future is electric. He's working on the design for Croatia's first electric car.
General practitioner, Dr Dragan Soldo, is feeling the pressure of public sector pay cuts. He could earn three times his salary abroad, but his pride at being the first doctor in his family keeps him in Croatia.
And Kasia discovered there's no democracy in a kitchen, when she met executive chef at the Tip Top restaurant, Christian Misiraca. Food is in his blood. His grandfather, mother and aunts were all in the restaurant business and besides, his surname means pumpkin!