Indian MPs get another pay rise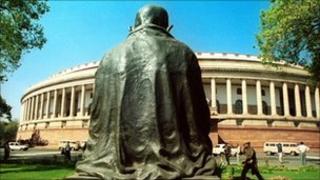 The Indian cabinet has further raised the allowances of members of parliament two days after raising their salaries more than three-fold.
The MPs will now get an additional 10,000 rupees ($214; £138) a month.
On Friday, their salary was raised from the current 16,000 rupees ($345; £220) a month to 50,000 rupees.
Office and constituency allowances were each doubled to make a total of 80,000 rupees, but some MPs protested this was inadequate. This now rises to 90,000.
The members want their pay be raised to at least 80,000 rupees, which is what senior bureaucrats are paid.
"The union cabinet, which met under the chairmanship of Prime Minister Manmohan Singh, decided to increase the monthly office and constituency allowances of MPs by 5,000 rupees each," news agency Press Trust of India (PTI) reported.
On Friday, the Lok Sabha [the lower house of parliament] was adjourned as several MPs protested against the rise.
Although the salary of the MPs has remained low compared to pay in the government and private sector, critics say the parliamentarians receive a number of perks which more than make up for it.
As MPs, they are entitled to 34 free flights in business class a year, unlimited first-class air-conditioned train travel, free accommodation and several other benefits.
They get free power, free water, and travel and furniture allowances.
Critics say the pay increase is unjustified at a time when the country is reeling under a double-digit inflation.