Fears for Pakistani town after new flood levee breaches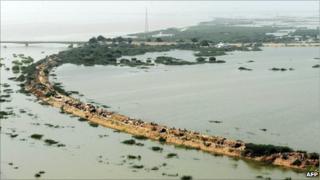 Officials in southern Pakistan are battling to save the town of Thatta, where the raging Indus river has breached more of its levees.
Tens of thousands of people have fled the town in the past few days and some outlying districts were reported to already be under water.
The town in Sindh province is now all but abandoned, reports say.
The massive floods in Pakistan have lasted for more than a month, leaving 8m people in need of emergency relief.
A local official in Thatta said it could take up to three days to repair the breaches.
But even if they can be repaired, the thousands who have fled their homes are now without shelter.
As the waters start to recede in the north of the country, the full extent of the damage has begun to emerge.
The UN Office for the Co-ordination of Humanitarian Affairs (OCHA) has warned that the Indus river in the south has swollen to 40 times its usual capacity.
More than seven million people have now been displaced in southern Sindh province - one million in the past few days alone. Out of the 23 districts in the province, 19 have so far been badly affected by the floods.
Across the country, some 17 million people have been affected.
'Gigantic efforts'
Provincial irrigation minister Jam Saifullah Dharejo told the AFP news agency that Saturday would be a crucial day for Thatta.
"We are using all our resources to stop the water flow towards Thatta. We are making gigantic efforts," he said. The outlying Belo area of Thatta, with 10,000 residents, is already reported to be under water.
Chief minister Syed Qaim Ali Shah said disaster teams were hopeful that they could repair the breaches in two to three days, but that "the danger to Thatta remains".
Most of the town's population of 300,000 has left, say officials. The army and navy were both involved in the overnight evacuation of more than 200,000 people from the town, 70km (45 miles) east of Karachi.
'Like beggars'
Flood victims in Sindh have complained that not enough help is arriving.
One displaced woman said she and her family had to abandon their home quickly and had no belongings left.
"No-one is helping us. We are poor and helpless," Amta Bibi told the Associated Press news agency.
"If someone helps us I will pray for him".
On Saturday, survivors blocked a road to protest about the shortage and the way the limited aid is distributed, AP reports.
"The people who come here to give us food treat us like beggars. They just throw the food. It is humiliating," one woman told AP.
The relief commissioner of Sindh has appealed for more help to deal with the crisis, saying some 2.3 million people had still received no food or emergency shelter.
"The magnitude of this catastrophe is so huge that the government cannot cope with it alone. We are trying to grapple it, but we need international support," Ghulam Ali Pasha told AFP.
Health officials say there is also a growing risk of disease and malnutrition among the millions of displaced people, most of whom have little or no access to clean water, sanitation and food supplies.
Martin Mogwanja, UN humanitarian co-ordinator in Pakistan, said children were particularly in danger.
"If nothing is done, an estimated 72,000 children, currently affected by severe acute malnutrition in the flood-affected areas, are at high risk of death," said Martin Mogwanja, UN humanitarian co-ordinator in Pakistan.
The monsoon floods started in the mountainous north and have steadily surged south, destroying 1.2m homes and damaging 3.2m hectares (7.9m acres) of farmland - about 14% of Pakistan's land under cultivation.
The Pakistani government has so far confirmed that 1,600 people have been killed.
The UN says it has received or been pledged about $325m of the $459m sought in a flash appeal of foreign donors, while an additional $600m has been provided or promised outside the appeal.
If you would like to make a donation to help people affected by the floods in Pakistan, you can find information about how to do so by clicking here.