A village in shock at cricket allegations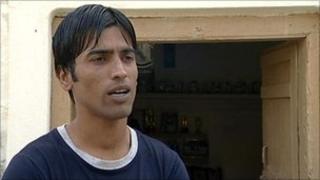 Everyone in the tiny farming village of Changa Bangyal knows Mohammed Amir.
This is where Pakistan's brightest cricketing star for years was born and brought up.
A bumpy piece of land, overgrown in some patches and bare in others, is where he learned to bowl with his friends.
Beside it, we find Wahid Ahmed, one of Amir's former teachers at the village school.
"He was such a good student," he says. "He was very poor, but wanted to do well and was always honest and respectful.
"Of course, he was an outstanding sportsman.
"There was one incredible catch he took in a school cricket match that will always stick in my mind," he says.
Everyone here is shocked by the allegations that Amir deliberately bowled no-balls at pre-arranged times in a recent game against England in return for money.
And nowhere is that sense of bewilderment greatest than in the simple home of Amir's family.
"We couldn't believe what we were hearing," says Naveed, one of Amir's five brothers.
"He's just not that kind of person, he couldn't even think in that way.
"I spoke to Amir and he's so upset by what's going on but he kept telling me: 'Believe me I haven't done anything wrong, this will all go away.'
"He told us to pray for him," Naveed adds.
'Depressed'
Amir's only sister, Riffat, tells us her brother had always been a humble person whose personality had been unchanged by fame.
When I put to her the evidence produced by the News of the World, she says it is not valid proof.
She said she was angry that people in Pakistan and abroad had jumped to conclusions and were already talking about what should happen to Amir.
"We are very depressed right now," she says.
"But we are confident that our brother would not have done this. He would give his life for his country, but he would never sell his integrity."
There are many Pakistani fans who feel the young cricketer may have been led astray by bad company within and surrounding the team.
But the people of Changa Bangyal told us they did not think it possible, even if the amount Amir was allegedly offered to bowl a single no-ball constituted many times that of the average annual salary in the village.
If his friends and family are wrong, and the claims proven, it could well curtail the career of one of the most promising cricketers on the world stage.
A few hours' drive south from Amir's village, we reach a very different Pakistan - one without the same sense of simplicity and innocence, and one where the possibility of a young man being drawn into corruption suddenly seems more realistic.
The bustling backstreets of Old Lahore are full of noise and colour and life.
It does not take long to stumble across an impromptu game of cricket amid the chaos.
But a shadier pastime seems just as prevalent here.
Betting is illegal in Pakistan, but in apartments and shops across this part of the city are scores of gamblers and bookmakers, many of whom are also involved in other forms of organised crime.
'Tax-free industry'
After dark, beside Lahore's main railway station, we meet our contact.
We go with him and the car soon dives into the alleyways, darting around rickshaws and food vendors, and even livestock.
Many turns later we find ourselves at the end of a dimly-lit passageway.
A doorway halfway down it takes us into a small, smoke-filled room, and to two of the most notorious bookies in Lahore.
Of course, they do not want us to identify them, but they talk freely of their activities and tell us betting scams involving cricket matches are widespread.
"All the big bookies have links with one cricketer or another," says one of them.
"You can tell which ones have the best contacts when huge sums of money are involved. A lot of the cash comes from Dubai and India," he says.
They tell us this is not a new phenomenon, but that match-fixing and links with professional sportsmen went back to the 1980s.
There was no way for us to verify their claims in such a short meeting.
They laugh at the statements of Pakistani politicians who claim they will stamp out corruption in the game.
"You can't stop it," one says. "Match-fixing and spot-fixing are like drugs for us now. It's like one huge, tax-free industry here."