India Marxists take back village from Maoist rebels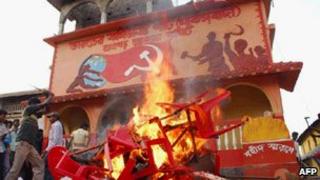 Communist supporters in India's West Bengal have taken control of a key village that they were driven out of by Maoist rebels a year ago.
The rebels attacked Dharampur village in the Junglemahal region in June 2009, forcing the residents to flee.
The Communists entered the village with help from the police and paramilitary troops operating in the area.
An earlier attempt by the leftists to enter the village was beaten back by the Maoists on 24 August.
Junglemahal, which borders the neighbouring state of Jharkhand, comprises Maoist-dominated districts of West Midnapore, Bankura and Purulia.
"Many of us have been driven out of our homes from Dharampur, more than a dozen of our supporters have been abducted and killed by the Maoists," local Communist Party of India (Marxist) leader Anuj Pandey said.
"Today we have regained control of this key village and our party office will soon start functioning here," he added.
Mr Pandey's two-storey house was burnt down during last year's attack.
Many of his supporters fled the area and those who stayed behind were killed or forced to leave the party.
Officials say nearly 180 Marxist supporters have been killed by Maoist guerrillas so far in the three Junglemahal districts.