French hostages in Afghanistan 'in good health'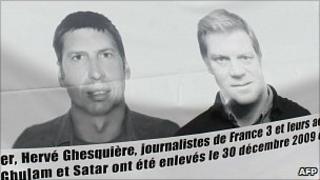 Two French journalists kidnapped in Afghanistan are alive and well, says President Nicolas Sarkozy's adviser.
The hostages, Herve Ghesquiere and Stephane Taponier of French state TV channel FR3, were seized in December.
"We've had proof of life within the last dozen days and we know they're in good health," Claude Gueant told Europe 1 radio.
"Ramadan delayed negotiations, which seemed to be going well, but they'll restart in a few days," he said.
Mr Ghesquiere, a reporter, and Mr Taponier, a cameraman, were seized along with three Afghan colleagues in Kapisa province, northeast of Kabul.
They were driving without a military escort, when their vehicle was ambushed by suspected Taliban militants.
The area, a stronghold for Islamist militants, is patrolled by French Nato forces.