Fighting Taliban: US recruits' story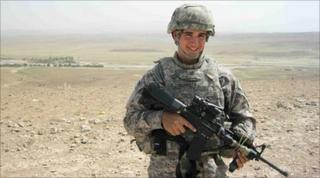 With three duffle bags, a combat pack and an empty rifle, US Privates Russell Gaskin, Anthony Coscarella and Mesmer Despeignes each board a plane at Fort Campbell, Kentucky. They are heading for Afghanistan.
The three recruits, are infantrymen with the 101st Airborne, the Screaming Eagles. Their regiment, the 506th, served in Normandy and was made famous by the book and TV series Band of Brothers. It saw action, too, in Vietnam.
And now it will be part of the final push in a surge of 30,000 troops that America hopes will turn the tide against the Taliban, and end the nine-year war.
Born in Trinidad, Pte Gaskin trained as a mechanic, but the economic slowdown was bad for business, so he signed up.
He admits that this is a step into the unknown: "I don't know what's going to be thrown at me, I'm just trying to be ready for whatever, that's all you can be. You just got to be reslient and buckle-up."
Thinking and praying
With multiple stops - first Ireland, Romania and then Kyrgyzstan - it takes the three soldiers a week-and-a-half to reach Paktika province in southern Afghanistan.
Five days are spent at the dust-blown Forward Operating Base Sharana. There is training in detecting and avoiding improvised explosive devices (IEDs), the deadliest threat from the Taliban.
Their first five days in Afghanistan were costly ones for American forces - 21 US soldiers were killed, most by IEDS. It gives the infantrymen pause for thought.
"They're sneaky," said Private Gaskin. "You could shoot at somebody. But an IED, you can't touch that. But our vehicles hold up well against IEDs".
But mostly the soldiers spent these days of downtime, relaxing in their tent, watching movies, and preparing mentally for the battle ahead.
For 19-year-old Pte Coscarella, the youngest of the three, it has been a time for reflection.
"I've been thinking, praying and calling home. I'm trying to make the best of it because I won't have a lot of time when I'm out there," he said.
Pte Despeignes is the scrawny mascot of the group. His family comes from Haiti, but he has never been further from his home in Brooklyn. He is not sure what to expect, but has faith in his training and those around him.
"All I know is I will trust everyone of my teammates, and we're gonna be ready, we're gonna give it our all."
'Sophisticated' Taliban
At a remote outpost in the pine forests near the Pakistan border, older hands from the regiment are already on the frontline.
Combat Outpost Zerok is attacked by Taliban mortar or rocket fire most days. The past week has been quiet, perhaps because it is the end of Ramadan - or perhaps because it is time to harvest pine nuts from the surrounding forests.
The outpost is run by Easy Company. They too have been swept in by the surge. For most, it is the second tour of duty here.
For Srg Bartley Cardwell, it is the third. He says the Taliban have become more sophisticated over the years.
"From when I was here the first time, back in 2002, they are the same guys who fought against the Russians. But now they've been fighting with the US, or coalition forces for almost 10 years. They definitely know how we fight, they're more prepared," he said.
But he has hope that with the new concentration of troops - the 101st Airborne has gone from covering seven Afghan provinces to just one - progress can be made.
"That was the problem the last time we were here. We were so spread out, it's hard to make a difference when there's so few of you in such a remote, large area."
'Higher purpose'
A platoon takes a patrol into a local town and stops in the bazaar.
A shopkeeper explains that his neighbour was kidnapped for selling the Americans T-shirts. The soldiers take down the details and move on to patrol in the hills, were the Taliban often make their way into the country from neighbouring Pakistan.
The troops know they will not be able to stop the insurgents coming across that border. But they hope that, because of the surge, more troops might be able to deter them and that extra numbers of patrols will make locals feel safer.
The three privates have moved on to another base, one more stop and they will be at their final post. For the first time they are given their full quota of ammunition - seven magazines each, 210 rounds. For the first time their rifles are ready for action, and so are they.
But for Pte Coscarello, joining the army, and combat experience, is about more than just taking on the Taliban.
"I always felt I was meant to do it," he said.
"Since I was very young, I thought I was meant to do something bigger than around where I lived. Not just go to college or work at a local restaurant, like everyone else. I wanted to do something worldwide, something with a higher purpose. This is how I can get there."