Pervez Musharraf to launch party next month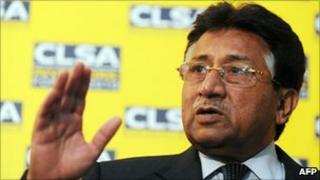 Former Pakistan military ruler Pervez Musharraf says he will launch his party next month, touting his Facebook support as a harbinger of change.
He is expected to announce the establishment of the All Pakistan Muslim League in London on 1 October.
Speaking in Hong Kong, Mr Musharraf told reporters he would return to Pakistan for the next national elections, scheduled for 2013.
The former president went into exile in 2008 after his allies lost elections.
'Yearning for change'
Mr Musharraf, who now lives in London, announced earlier this year he would set up the All Pakistan Muslim League to address "the crises facing Pakistan", and the party began a public recruitment campaign.
By returning to politics in Pakistan, the 67-year-old says he hoped "to bring about a new political culture to the country".
"I'm going to declare a party on 1 October," news agency AFP quoted him as saying in Hong Kong on Wednesday, on the sidelines of an investors' conference. "We have to bring about a new political culture in Pakistan."
Mr Musharraf acknowledged that if he did go back he would have to face some legal cases, but said he was not worried about it.
"There are elements opposed to me, political elements, and they are the ones who engineer these cases," he said. "One has to face that. I'm very confident nothing can happen."
Mr Musharraf said that most of his nearly 300,000 followers on his Facebook page were aged between 18 and 34.
"Therefore I know that it is the youth who are yearning for change," news agency AP quotes him as saying.
He has been talking for some time about the possibility of returning.
Last week, he told the BBC he would be standing for a seat in the 2013 parliamentary elections. From there he said he hoped to become either prime minister or president.
He seized power in 1999 when, as chief of Pakistan's army, he ousted elected Prime Minister Nawaz Sharif in a coup.