UK aid worker kidnapped in Afghanistan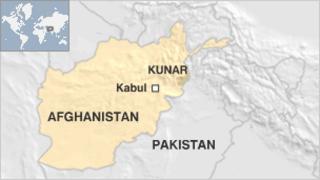 A UK aid worker and three local staff were kidnapped in Afghanistan on Sunday, security officials have said.
They were in a two-car convoy in the eastern province of Kunar when the vehicles were stopped by armed men.
The woman, who was employed by US aid group DAI and is thought to have worked for the UN before that, has not been identified.
The Foreign Office has confirmed a UK citizen is missing and said her relatives had been contacted.
A spokeswoman said: "We are working closely with all the relevant local authorities. We are also in touch with the family and are providing consular assistance."
Remote area
No-one has said they carried out the abduction.
A senior security official told the BBC the group was taken away into nearby mountains on foot, and that the area was being searched with tribal elders.
The US military, which has a strong presence in the area, is also thought to be involved in the search.
A farmer witnessed the abduction but the area is so remote that it was two hours before he was able to reported the incident to police, says the BBC's Kabul correspondent Ian Pannell.
The terrain of the area is difficult and dangerous - it is mountainous and wooded, which would hamper any search efforts from the air, our correspondent added.
Colleagues of the woman have been paying tribute, one calling her "fantastic" and saying they were praying for her safety, he said.
Various armed groups operate in the area and the location of the abduction is not thought to be under government control.
Afghans and foreigners can be targeted by gangs seeking ransom money, but they are sometimes sold on to militant groups.
DAI carries out aid work, often subcontracted by the United States Agency for International Development.
In July, a British private security guard was among four people killed in an attack on DAI offices in Kunduz, northern Afghanistan. Shaun Sexton, 29, from Northumberland, a former member of the Parachute Regiment, was working for the firm's security sub-contractor, Edinburgh International.
A month later, British doctor Karen Woo and nine other aid workers and translators were killed by gunmen, in the north-eastern province of Badakhshan, in what police said was a robbery.
Dr Woo worked for Christian charity the International Assistance Mission, providing eye care in remote villages.