Pakistani charity is blacklisted by US State Department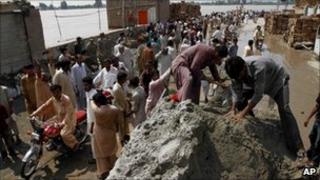 The US state department has added a Pakistani charity allegedly linked to militancy to its terror blacklist.
It said that Falah-e-Insaniyat (FeF) was an "alias" of Lashkar-e-Taiba (LeT), which is already on its list of "foreign terrorist organisations".
A state department spokesman said that the move showed that the US would not tolerate any support to LeT.
There has so far been no response from the FeF - which first emerged last year to help victims of natural disasters.
The BBC's Syed Shoaib Hasan in Karachi says that the FeF is believed to be a front for the Jamaat-ud-Dawa (JuD) Islamic charity.
Our correspondent says that the JuD has also been accused of being a front for LeT, which has been blamed by India for carrying out the 2008 Mumbai (Bombay) attacks in which 166 people were killed.
The JuD has strongly denied the charges against it.
Initially set up as the humanitarian wing of LeT, the JuD has, like the Fef, been active in relief efforts for those hit by Pakistan's floods.
"LeT has attempted to use the FeF as a way to evade scrutiny. This designation will help put to an end to that attempted evasion," state department co-ordinator for counter-terrorism Daniel Benjamin said in a statement announcing the move.
Mr Benjamin also named FeF leader Hafiz Abdur Rauf and two other men associated with LeT, Mian Abdullah and Mohammad Naushad Alam Khan, as being on its list of "specially designated global terrorists."
Right-wing organisations, including banned extremist groups, led the relief and rescue effort in flood-hit Pakistan earlier this year.
Three of the most prominent groups, Jamaat-e-Islami, the JuD and Sipah-e-Sahaba have thousands of activists who fanned out across the country.
All are very powerful on the ground despite having limited or no officially recognised political representation.