Sri Lanka recruits record number of Tamil police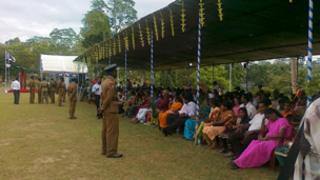 The Sri Lankan police force has inducted a record number of Tamil recruits into the force at a ceremony near the capital, Colombo.
Currently, only a few thousand of Sri Lanka's 86,000-strong police force are from the Tamil ethnic minority.
The move is part of a drive to improve relations between Tamils and the majority Sinhalese after the defeat of the Tamil Tiger rebels in 2009.
The rebels fought a decades-long battle for an independence state in the north.
A total of 320 men and 16 women were inducted at the Kalutara Police Academy ceremony after completing six months of training.
"This year we are targeting to induct more than 2,500 Tamils in to the force," police spokesperson Prishantha Jayakody told the BBC Tamil service.
"We are planning to recruit women sub-inspector level officers from the Tamil community."
He said once they enter active service, most of the officers - who largely come from the northern provinces - will be deployed in Tamil speaking areas of the country.
One of the new constables said the move would help bridge the gap between the Tamil community and the police in the northern areas of the country.
"Since we are from the same Tamil community I hope people will trust us. We will be able to improve the relationship between the community and the police," said Kalai Selvi.