UK man, 70, dies after Pakistan arson accusation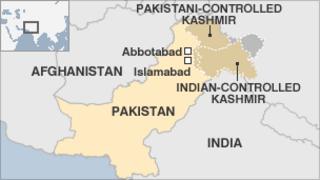 A British man, believed to be aged about 70, has died in hospital in north-west Pakistan after being detained by police for alleged arson.
His death in the city of Abbotabad is being investigated by the hospital authorities, but they say it was most probably due to natural causes.
The man was arrested on 4 January in Abbotabad, accused of setting fire to his guest house room.
It is unclear why he was in the area. The city is a tourist attraction.
After falling ill in prison, the man was treated in hospital in the city of Mansehra, where he died on Monday.
Abbotabad police spokesman Fazlur Rehman told the BBC that the British national checked into the guesthouse on 26 December and was arrested on 4 January after an alleged arson incident in his room.
Guesthouse owner Malik Mushtaq filed a complaint against him after he allegedly refused to pay damages for the fire.
Mr Rehman described him as an "old and weak-looking man who talked a lot and smoked a lot".
He said that the man was "visiting" Abbotabad, a tourist destination in a comparatively peaceful part of Khyber Pakhtunkhwa province.
The BBC's M Ilyas Khan says that it is not clear why the dead man remained in police custody for two weeks for an offence where he could be given bail.
Hospital officials said that a post-mortem examination had revealed that his death was probably due to natural causes.
They said that there was no sign of violence on the body, and the man was suffering from chronic renal failure and lung problems.
The British High Commission in Islamabad confirmed the death of a British national in police custody but is making no further comment at this stage.